Michael Nicolella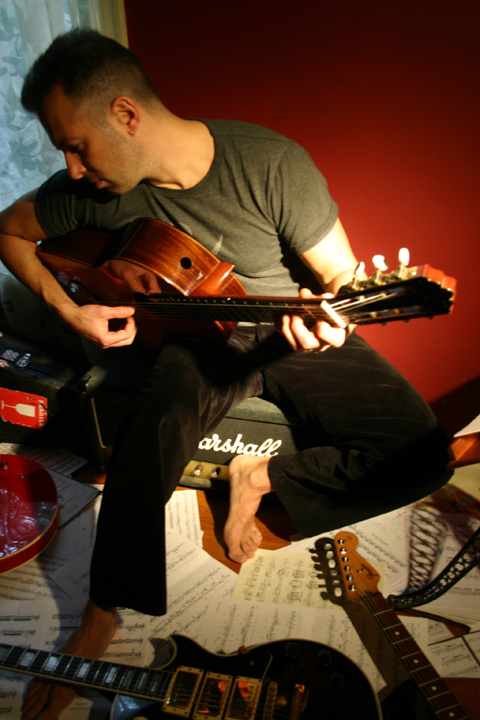 From J.S. Bach to Elliott Carter to Joshua Kohl, Nicolella proved to be a superb technician. He has facility that is clear-headed and articulate and quick. He has as much purpose in music of the 20th or 21st century, as he does with music of the 18th.
-SEATTLE POST INTELIGENCER
Bach...has found in Nicolella a natural interpreter.
-MILWAUKEE JOURNAL SENTINEL
A beautiful performance of Sequenza XI...Bravo
-LUCIANO BERIO
(Nicolella's) "Three Brief Episodes," displays such a rare beauty that it had to be mentioned here... a work that sacrifices nothing in its brevity, has an uncommon melodic grace, and still moves with depth and energy.
-GUITAR REVIEW
While my repertoire spans the entire five centuries of works for the guitar and its related ancestors (lute and vihuela), I find myself increasingly drawn to the music of the Baroque period and the music of today. I have transcribed, for the guitar, many works from the Baroque repertoire which were originally written for lute, violin, cello or keyboard, including music by J.S. Bach, Antonio Soler, Francois Couperin, S.L. Weiss, Ludovico Roncalli and Domenico Scarlatti. On the new music front, I have premiered works written by John Fitz Rogers, Richard Kranjac, David Paul Mesler, Tom Baker, Apostolos Paraskevas, Joshua Kohl, Christopher DeLaurenti , Anthony Gatto, Jérémy Jolley and myself; as well as championed the music of such contemporary composers as Steve Reich, Luciano Berio, Toru Takemitsu, Astor Piazzolla, Betsy Jolas, Elliott Carter, Roberto Sierra, Paul Lansky, Jacob Ter Veldhuis, George Crumb, Pierre Boulez, Octavio Vazquez, Frank Wallace, Bryan Johanson, Hans Werner Henze, Salvatore Sciarrino and Fausto Romitelli.
As a composer, I frequently perform my own works in solo, chamber and orchestral settings. My latest major work "the Flame of the Blue Star of Twilight " for soprano, guitar and orchestra was premiered in April, 2012 by Alexandra Picard and the Northwest Symphony Orchestra conducted by Anthony Spain. In February 2011 my work "Seeking, Searching and Hunting" for guitar trio, was premiered by the Oberon Trio, at the University of Calgary. In April, 2009, my work "La Vals Eterna" for classical guitar ensemble was premiered at the Schwob School of Music, Columbus State University, under the directorship of Andrew Zohn, as part of a composer in residency with the Carson McCullers Center for Writers and Musicians. The piece has since been performed at the 2010 Northwest Guitar Festival in Victoria, B.C. and the University of Calgary. In 2006-2007, I was composer in residence with the Northwest Symphony Orchestra, which culminated in the 2007 premiere of "Ten Years Passed," for electric guitar and orchestra. Other recent premiers include: "Prelude" for solo classical guitar premiered by myself at Cornish College of the Arts, Poncho Hall in January 2010. "Toccata and Fugue" for solo classical guitar - premiered by Michael Partington and "Guitar Concerto" for classical guitar and orchestra - premiered by the Seattle Creative Orchestra with myself as soloist, both at Benaroya Hall in Seattle.
Orchestral Repertoire
| | |
| --- | --- |
| Luciano Berio | "Chemin" |
| Lennox Berkley | "Guitar Concerto" |
| Leo Brouwer | "Tres Danzas Concertante" (guitar and string orchestra) |
| Paul Chihara | "Concerto for Guitar and Orchestra" |
| Donald Craig | "Phantastitablatura" (electric guitar and orchestra) |
| Mauro Giuilani | Concerto No. 1 in A major, Op.30 |
| Michael Nicolella | "Guitar Concerto" |
| Michael Nicolella | "Ten Years Passed" (electric guitar and orchestra) |
| Manuel Ponce | "Concierto del Sur" |
| Joaquin Rodrigo | "Concierto de Aranjuez" |
| Joaquin Rodrigo | "Fantasia para un Gentilhombre" |
| Toru Takemitsu | "To the Edge of Dream" |
| Heitor Villa-Lobos | "Concerto for Guitar and Orchestra" |
| Antonio Vivaldi | "Concerto for Lute (Guitar) in D major" R.93 |