Michael Nicolella
CD REVIEWS CONCERT REVIEWS ARTICLES/INTERVIEWS
June, 2015 Guitar Player "Bach lesson"
May, 2015 Guitar Player "Welcome Bach"
July, 2013 Guitar Player "Spotlight Then and Now"
December 7, 2011 Seattle Weekly "Ear Supply: Split Personality"
January 27, 2010 The Seattle Times "Guitarist Nicolella ranges widely, from delicate classical to edgy modern"
February 2009 Guitar Player "Keeping Classical Guitar Vibrant"
April 2008 Classical Guitar "Letter From New York"
May 2006 Classical Guitar "Letter From New York"
Spring 2006 "Classical Guitar's Rising Star Pushes the Envelope" Frets
March 17, 2006 Seattle P-I "Acoustic or electric, it's all classical with versatile Nicolella"
Spring 2005 #130 Guitar Review Interview
11/14/03 Between Britney and Bach The State
8/30/01 "Classical Between the Cracks" The Seattle Weekly
5/5/95 "Classical Guitarist Bids Adieu" The Milwaukee Journal Sentinel
2/17/95 "R.I. Native highlights a big guitar weekend" The Providence Journal
Vol .40, No. 4 Soundboard magazine
December, 2014 Classical Guitar magazine
November 9, 2014 Seattle Times
October 7, 2014 Seattle Weekly
December 2011 Classical Guitar (U.K)
Feb. 2011 Guitar Player magazine "Editor's Pick"
Feb. 2011 Classical Guitar Canada
Vol.33 Nos. 1&2 2007 "Michael Nicolella, Shard"Soundboard
June/July 2006 Guitare Classique (France)
February 2006 "Shard" Classical Guitar (U.K)
Spring 2006 "Classical Guitar's Rising Star Pushes the Envelope" Frets
March 19, 2003 Music and Vision "Transit, A Spectacular Work"
6/27/02"Gushing guitars" "Transit" Bay Area Reporter, Seattle Weekly (et al)
August, 2002 "Transit' 20th Century Guitar
5/21/02 "Transit" Progressor.net
5/5/02 "Transit" Seattle Times
December 2000 "Push" Classical Guitar (UK)
"Push" Hartford Advocate, Seattle Weekly (et al)
1/7/01 "Push" Milwaukee Journal Sentinel
2001 (#121) "Push" Guitar Review
"Push" Soundboard Winter/Spring 2001
7/25/93 "Bach, Britten, Martin" Milwaukee Journal
Winter 2009 Vol.35 No. 1 2009 "GFA 2008"Soundboard
2/2/07 "Simplicity of classical guitar complements adventurous electronic concert" The State
11/19/03 "The Guitar Reigns under Nicolella" The Columbia Free Times
6/11/02 "Guitar society closes season on a diverse and superb note" The Seattle Post-Intelligencer
4/11/02 "Stocking the Stream With New Composers" The New York Times
4/20/99 "Nicolella Advancing The Guitar Repertoire" The Washington Post
6/99 "Michael Nicolella at Seattle Mennonite Church" Seattle Guitar Society Datebook
3/23/96 "Nicolella's classical guitar soothes the soul" Milwaukee Journal Sentinel
5/7/95 "A guitarist to count on in an emergency" Milwaukee Journal Sentinel
10/30/92 "Nicolella takes guitar to new level" The Milwaukee Journal
11/9/91 "Peel away the calm and Nicolella has fire "The Milwaukee Journal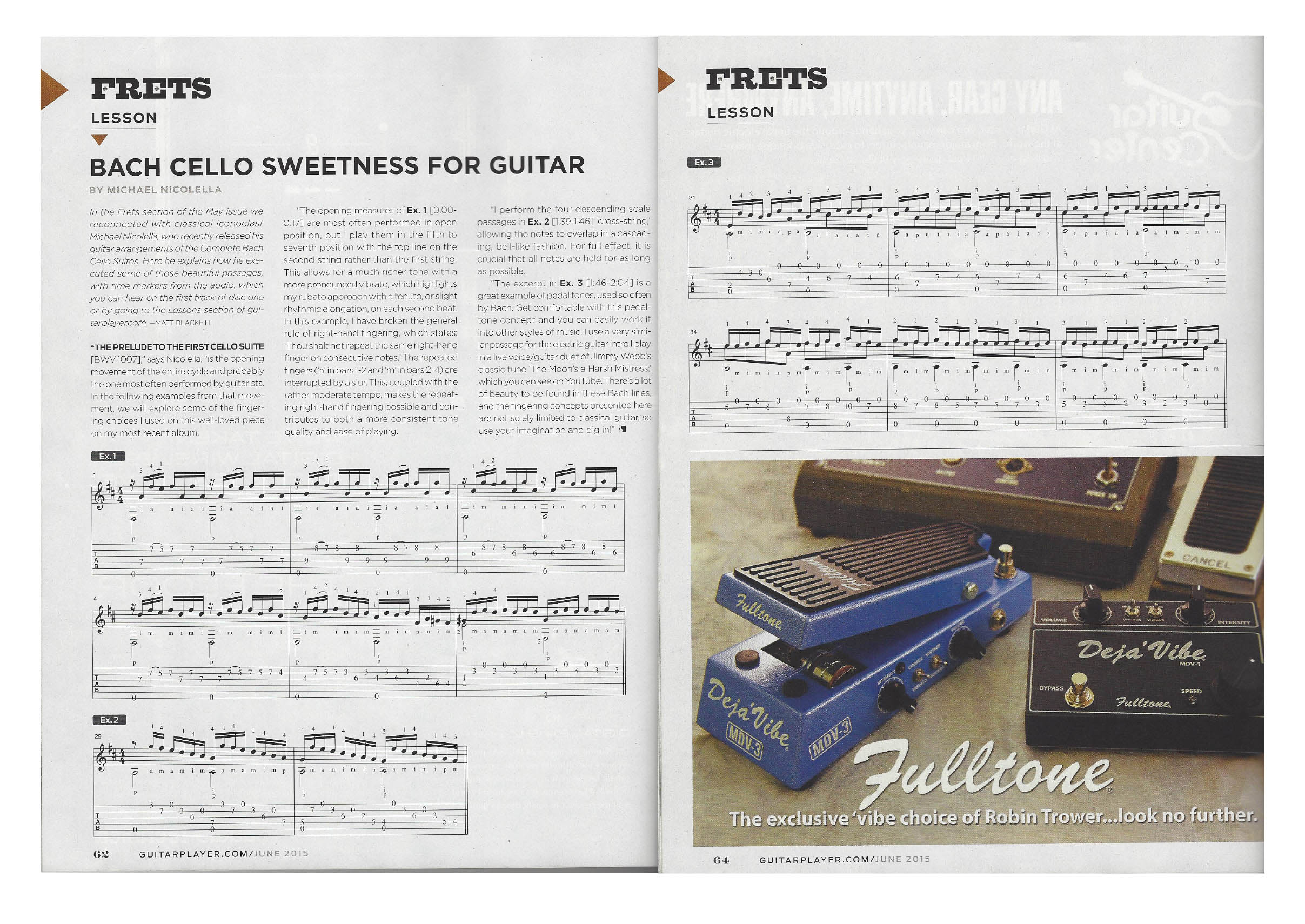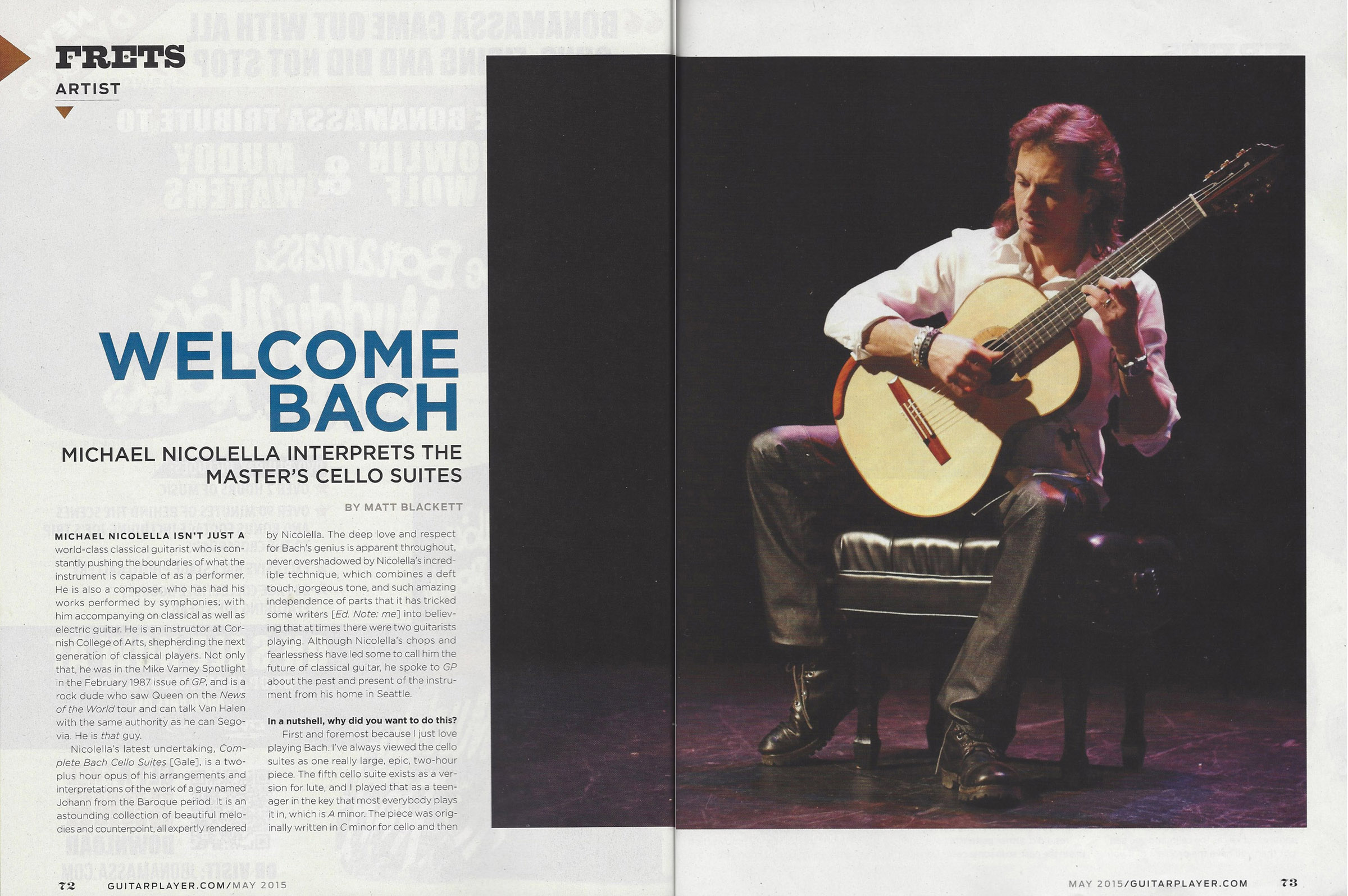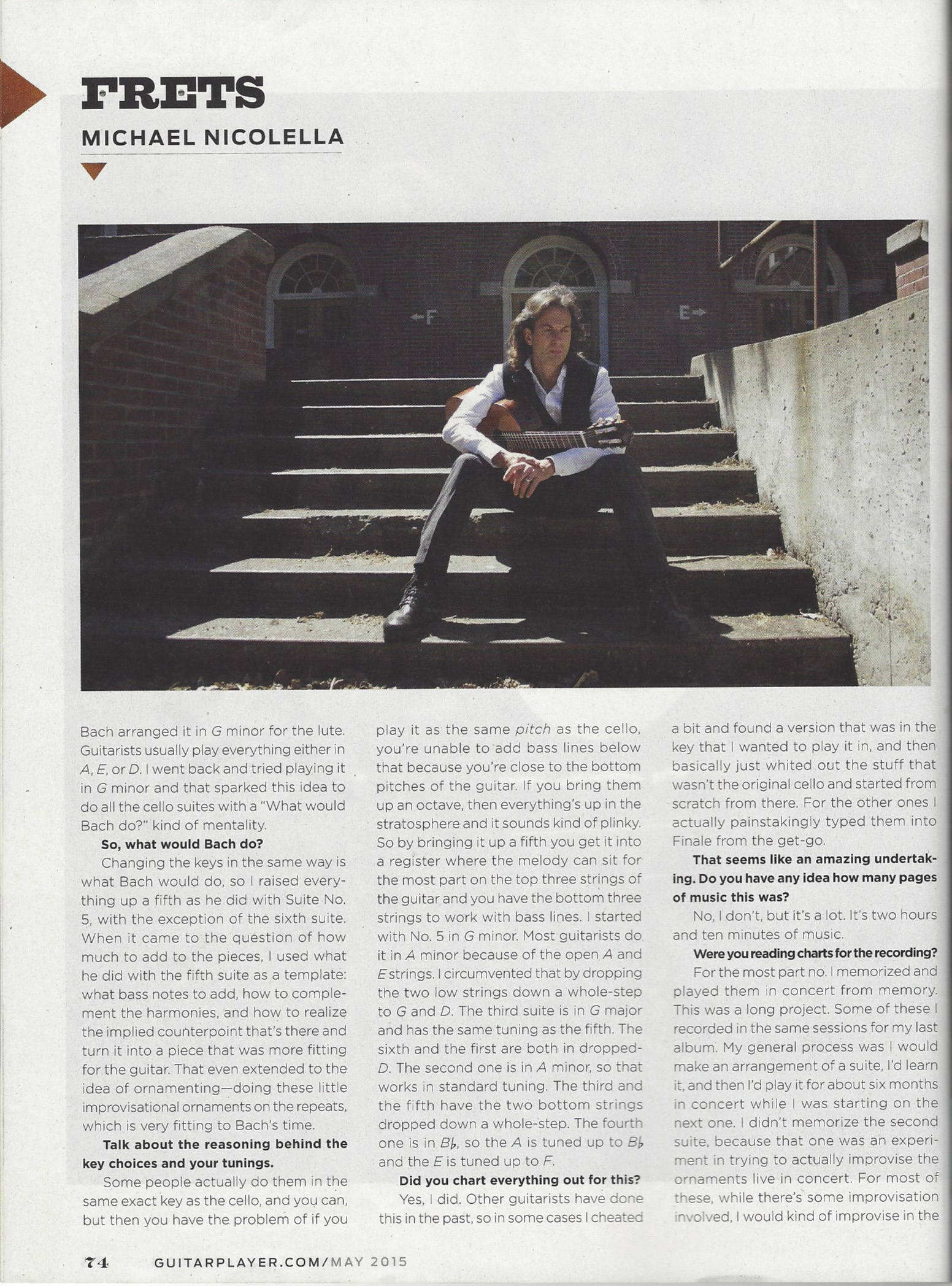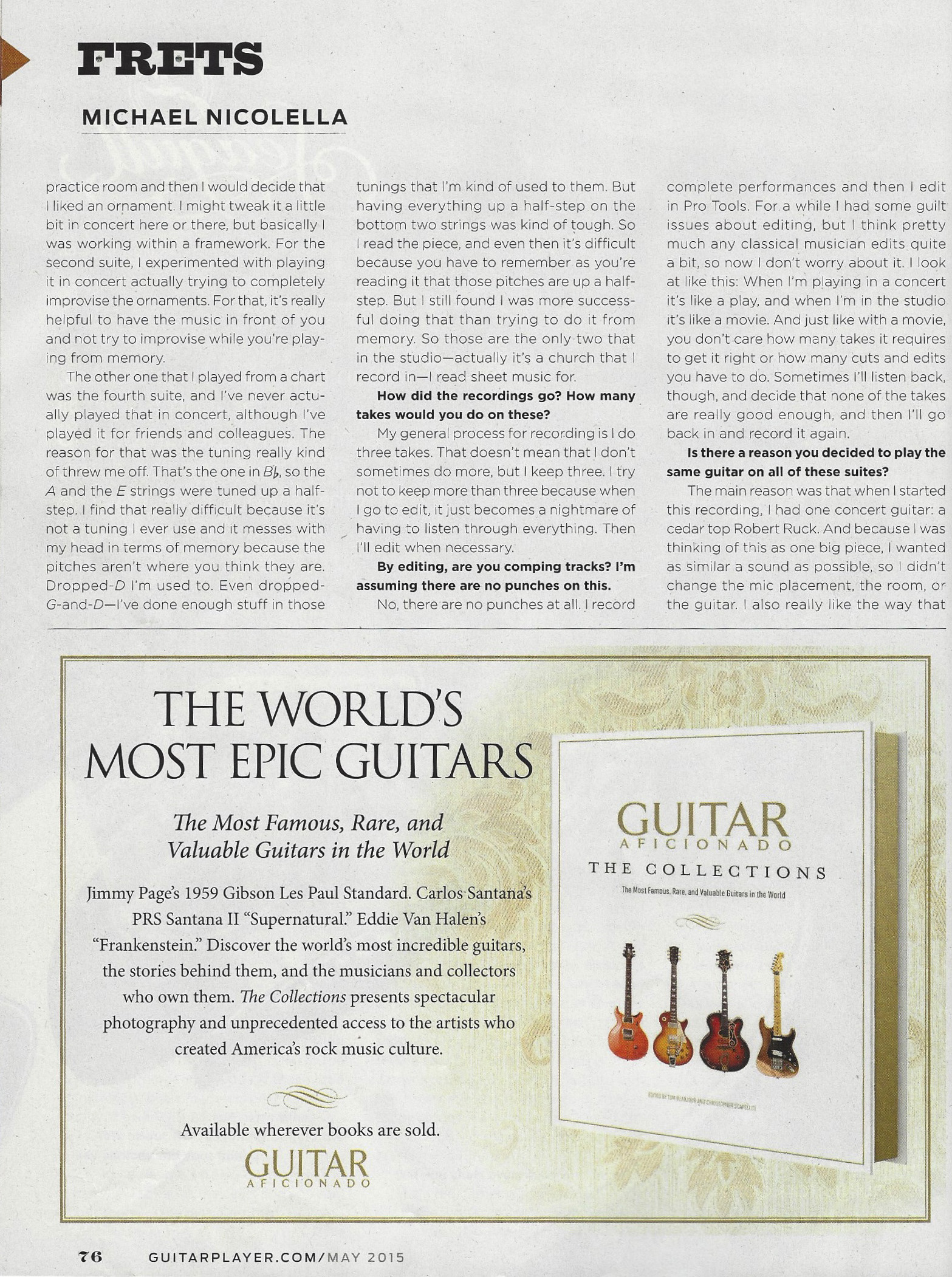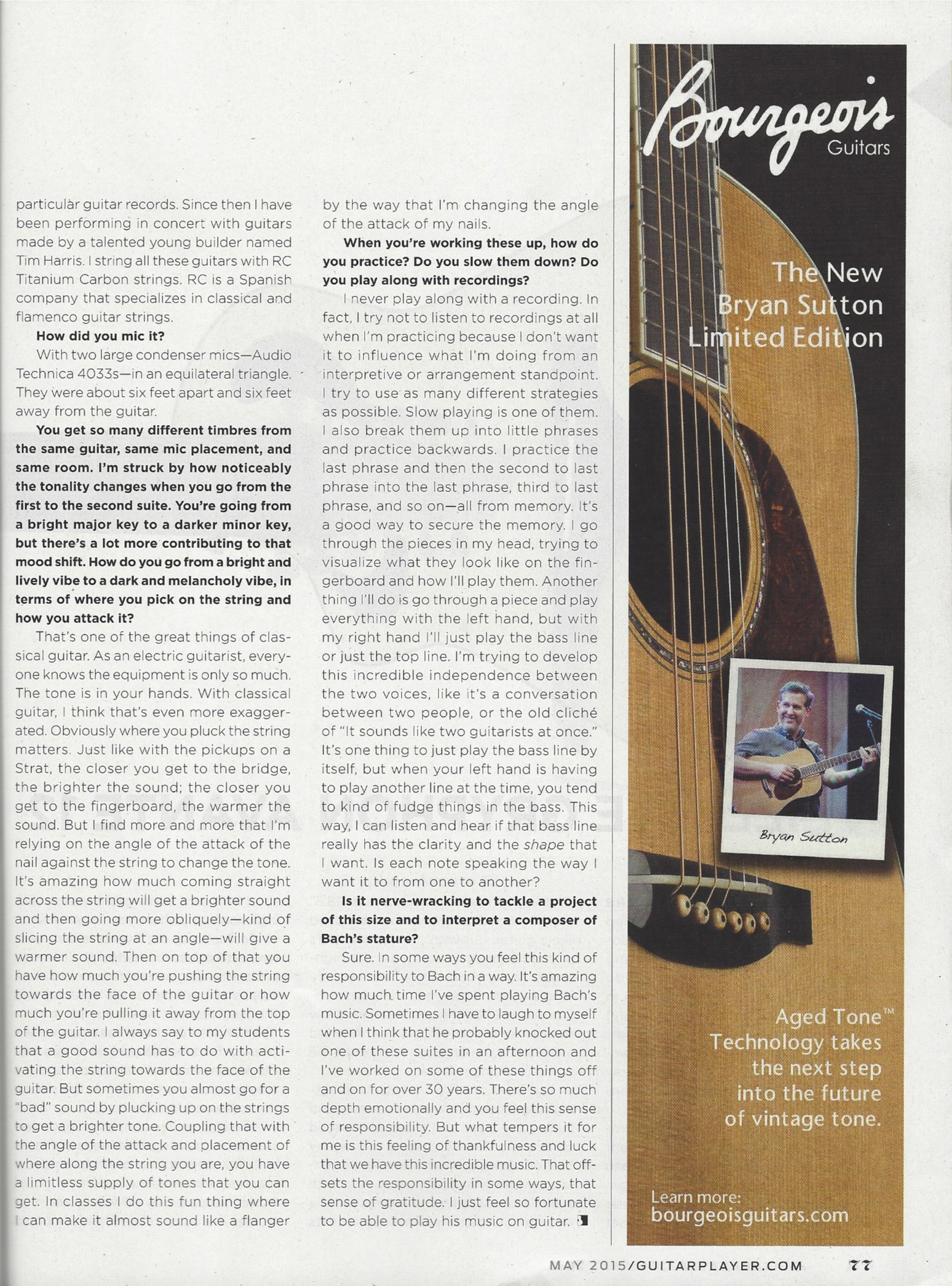 ---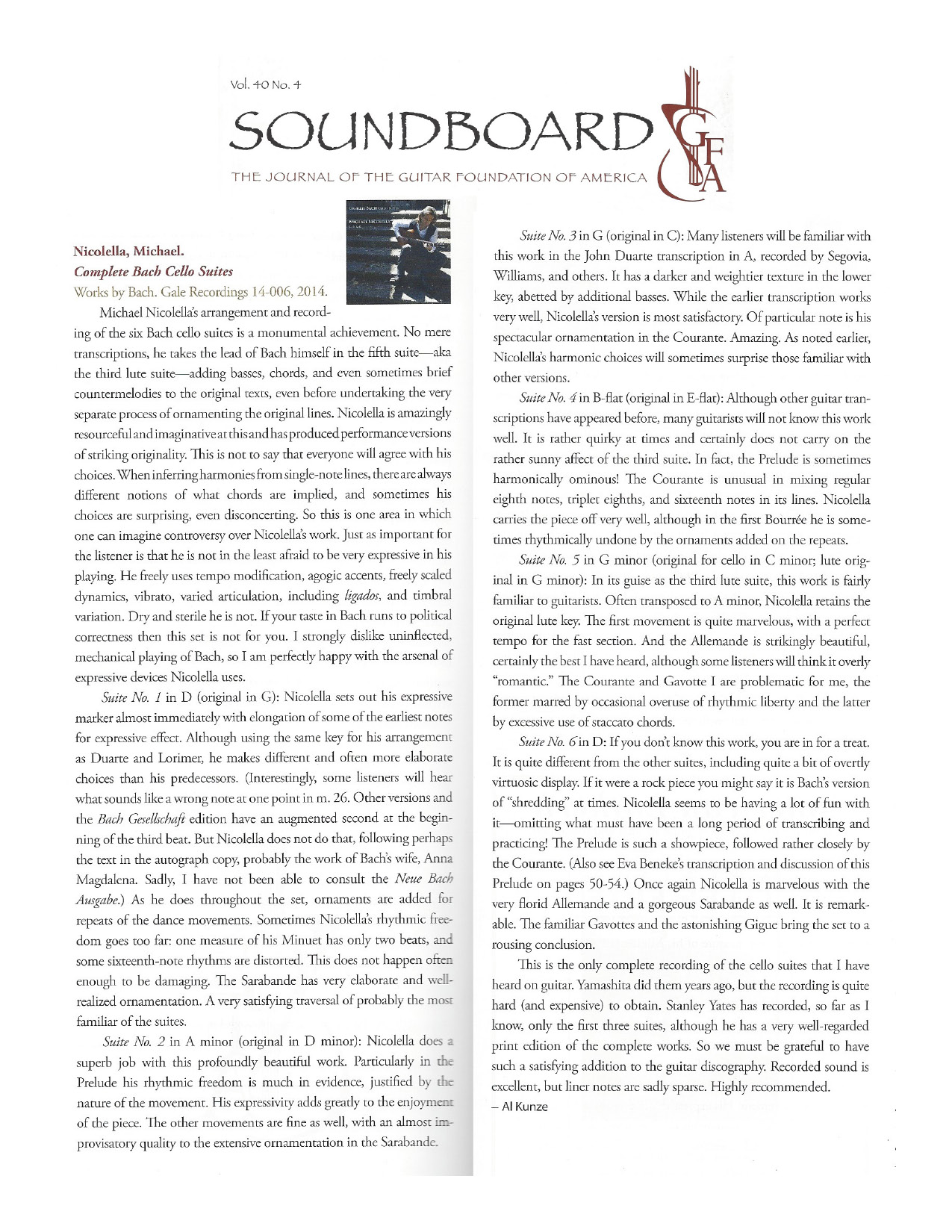 ---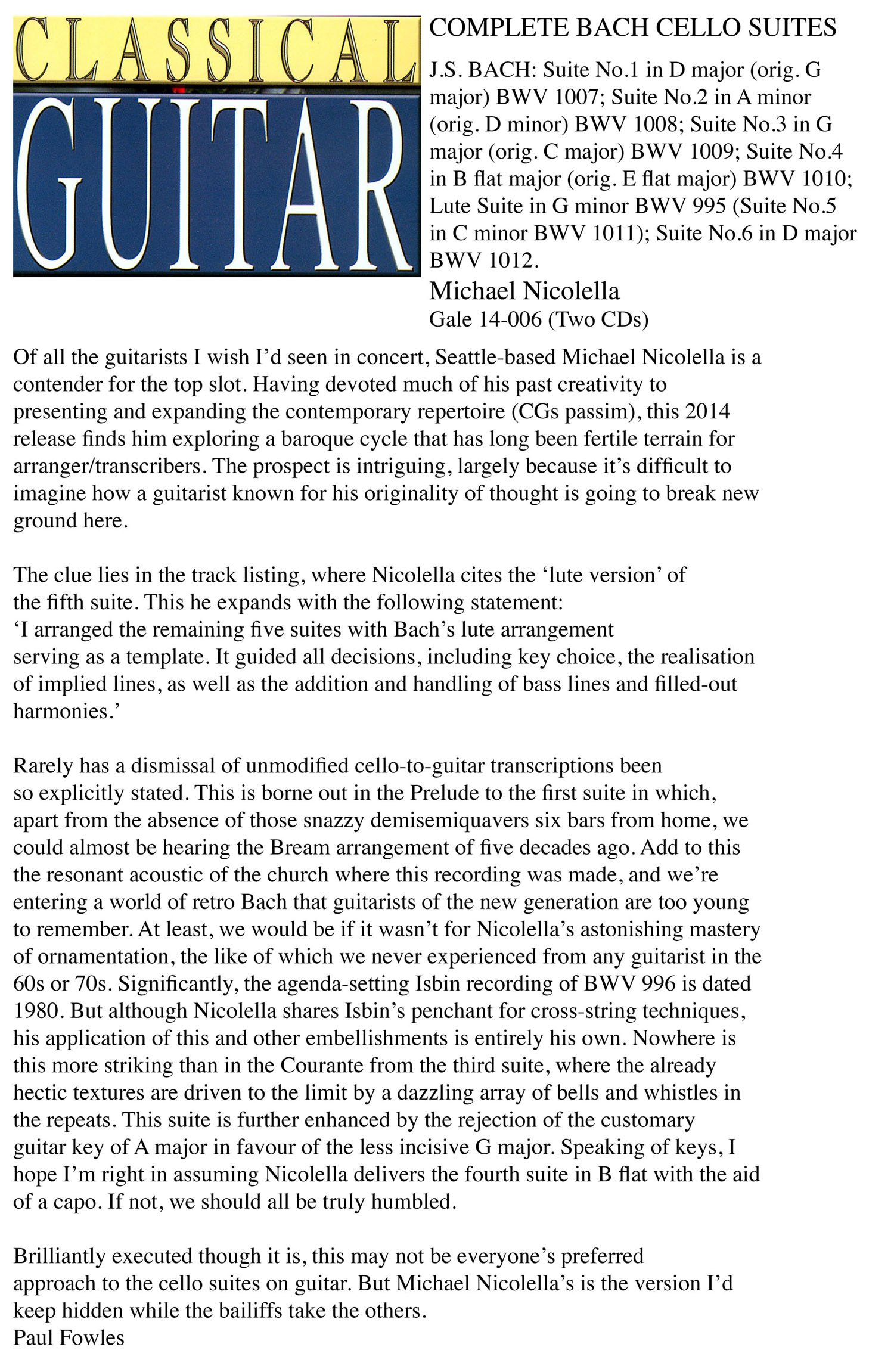 ---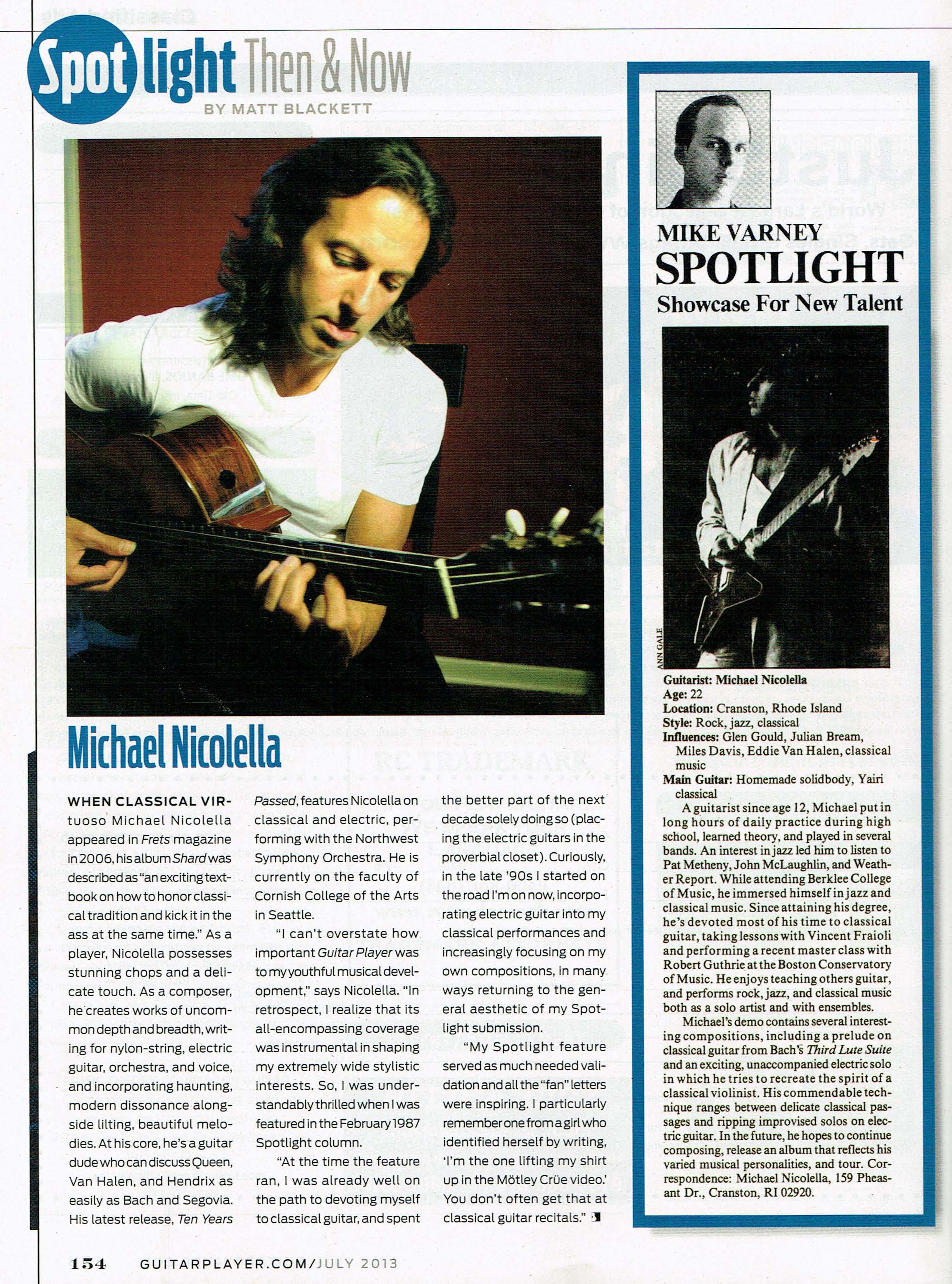 ---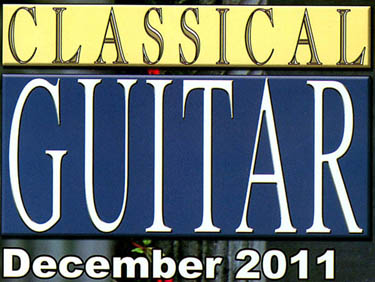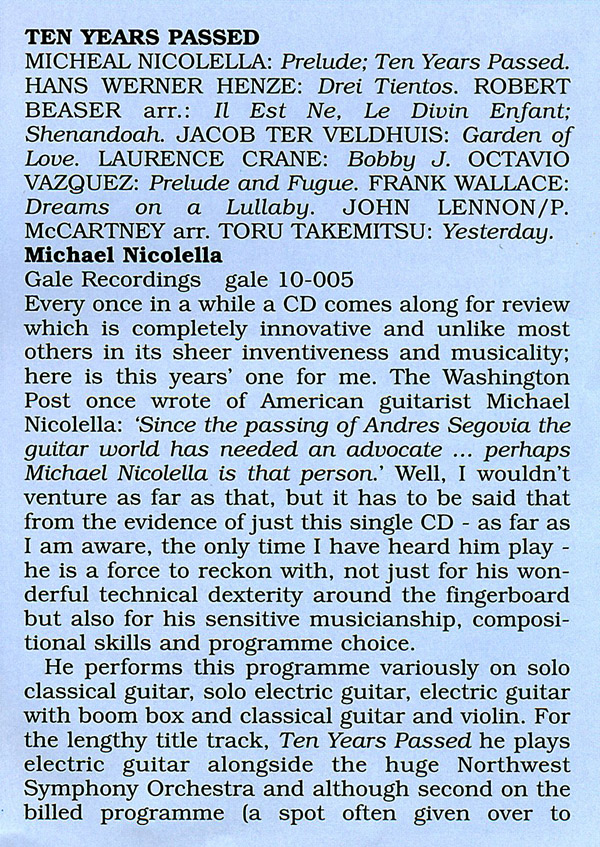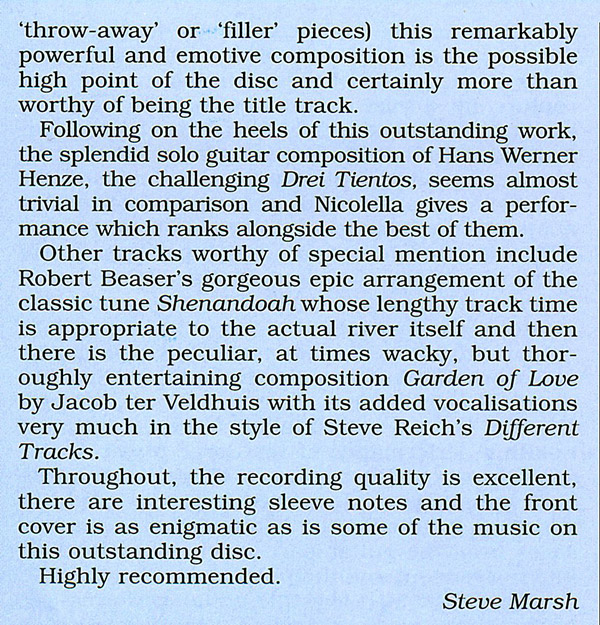 ---

February 2009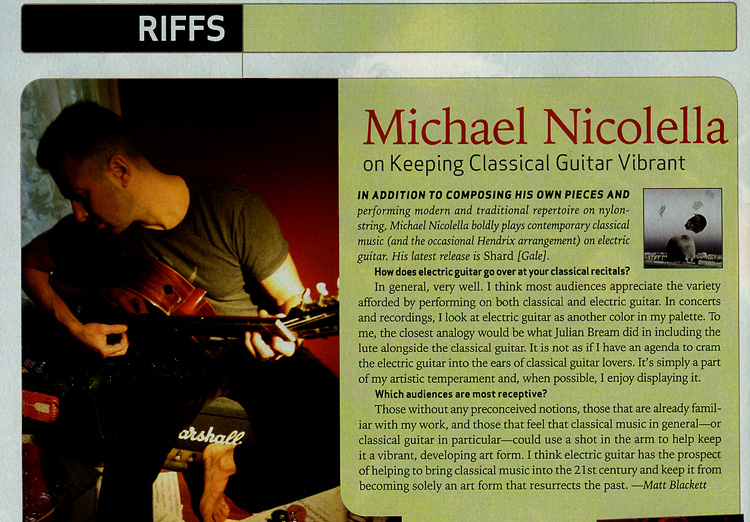 ---
Michael Nicolella. Shard.
Works by Nicolella, Reich, Carter, Veldhuis, Kohl, DeLaurenti, Mesler. Gale Recordings: Gale 05-004, 2005. "[Includes mutimedia works as well as guitar and orchestra. Packaging has sticker: parental Advisory explicit Content.]
Volume 33 Nos.1&2 2007
by -Jim McCutcheon
Once in a great while, a guitar CD stands apart with sheer creativity and musicality. Shard, Michael Nicolella's 2005 release, is a portrait of a very broadly accomplished musician with talents in many musical areas, not the least of which is a strong technical and expressive command of the guitar.
The opening three original works showcase Nicolella's rich experience in contemporary music. He studiously avoids the new-age-like repetition exhibited by guitarist/composers of lesser abilities. Toccata and Fugue is a virtuosic solo work which bursts with expression. The Fugue is written and performed with excellent clarity, further developing the theme from the Toccata, a "tip of the hat" to a well-known Bach fugue. Surfacing Through the Mire develops a blues-influenced theme, reminiscent of the preludes by Gershwin, and takes the development quite seriously through frequent, effortless meter changes. As both a composer and performer, Nicolella shows himself to be a master of portraying the many moods of the guitar.
Written in 2002, Nicolella's Guitar Concerto consists of four movements which flow almost seamlessly. It is clear this is the work of a composer sensitive not only to the intricacies of writing for the guitar but also to the use of orchestral scoring to create new and expressive landscapes which set the stage for the soloist. Nicolella has a mature sense of balance, using the orchestra as a collection of chamber groups as well as a tutti con forza, passing motives through all the instruments and writing sections for each instrumental group. The recording quality of this piece is excellent, with detailed balance and tone. This well-written and orchestrated piece of music should be heard, studied, and and performed by guitarists everywhere.
Grab It! by Jacob Ter Veldhuis presents electric guitar and boombox, with prerecorded, assaulting, mostly unintelligible vocals raging with raw, angry, emotional content. The few words that are intelligible convince me that this ten-minute track should be on a different recording. I'm just not used to classical guitar CDs requiring a PG-13 rating.
Other contemporary works fare much better. Steve Reich's Electric Counterpoint is vigorous and extremely clean rhythmically; the wide variety of dynamics and textural settings is quite joyful. The steady, minimalist ear massage using many types of guitars makes it a lively tossed salad of guitar sound. Christopher DeLaurenti's grey angel captures a fine spaciousness and mood which took me to an imaginary theater with its soundtrack-like, visual-image-evoking textures. Shard, from the pen of the ninety-year-old Elliott Carter is given a similarly energetic and clean reading.
Overall, this CD is the work of a serious and talented musician who stands out in the world of clasical guitar. He is currently involved in several creative projects, and I eagerly await where he takes us next.
back to top
---
June/July 2006
Francois Nicholas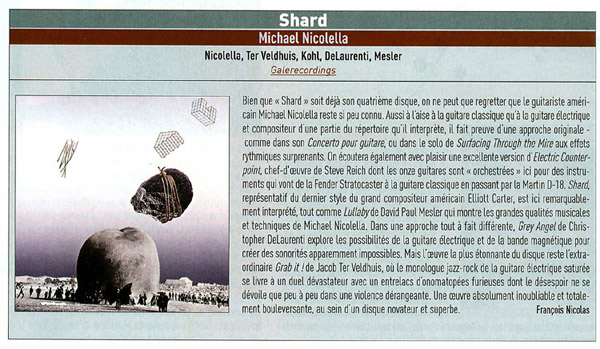 Given that Shard is already his fourth disc, it is regrettable that American guitarist Michael Nicolella is not better known. At ease with classical guitar and electric guitar and as a composer of some of the material he interprets, he gives proof of an original approach - as in his "Concerto for Guitar" or in his solo piece "Surfacing Through The Mire" with its surprising rhythmic effects. One is equally pleased to hear an excellent version of "Electric Counterpoint," Steve Reich's masterpiece, in which eleven guitars are "orchestrated" here with instruments ranging from a Fender Stratocaster through a classical guitar and including a Martin D-18. "Shard," representing the later work of the great American composer Elliott Carter, is remarkably interpreted here, much as "Lullaby" by David Paul Mesler which displays Michael Nicolella's great musicality and technique. In a completely different approach, "Grey Angel" by Christopher DeLaurenti explores the possibilities of the electric guitar and tape to create seemingly impossible sonic textures. But the most astonishing piece on the CD is the extraordinary "Grab It!" by Jacob Ter Veldhuis where the jazz-rock monologue of the electric guitar enriches the reading in a devastating duel of furious interlacing onomatopoeias of despair which reveal bit by bit a disturbing violence. This is an absolutely unforgettable and provocative piece within a CD that is innovative and superb.
back to top
---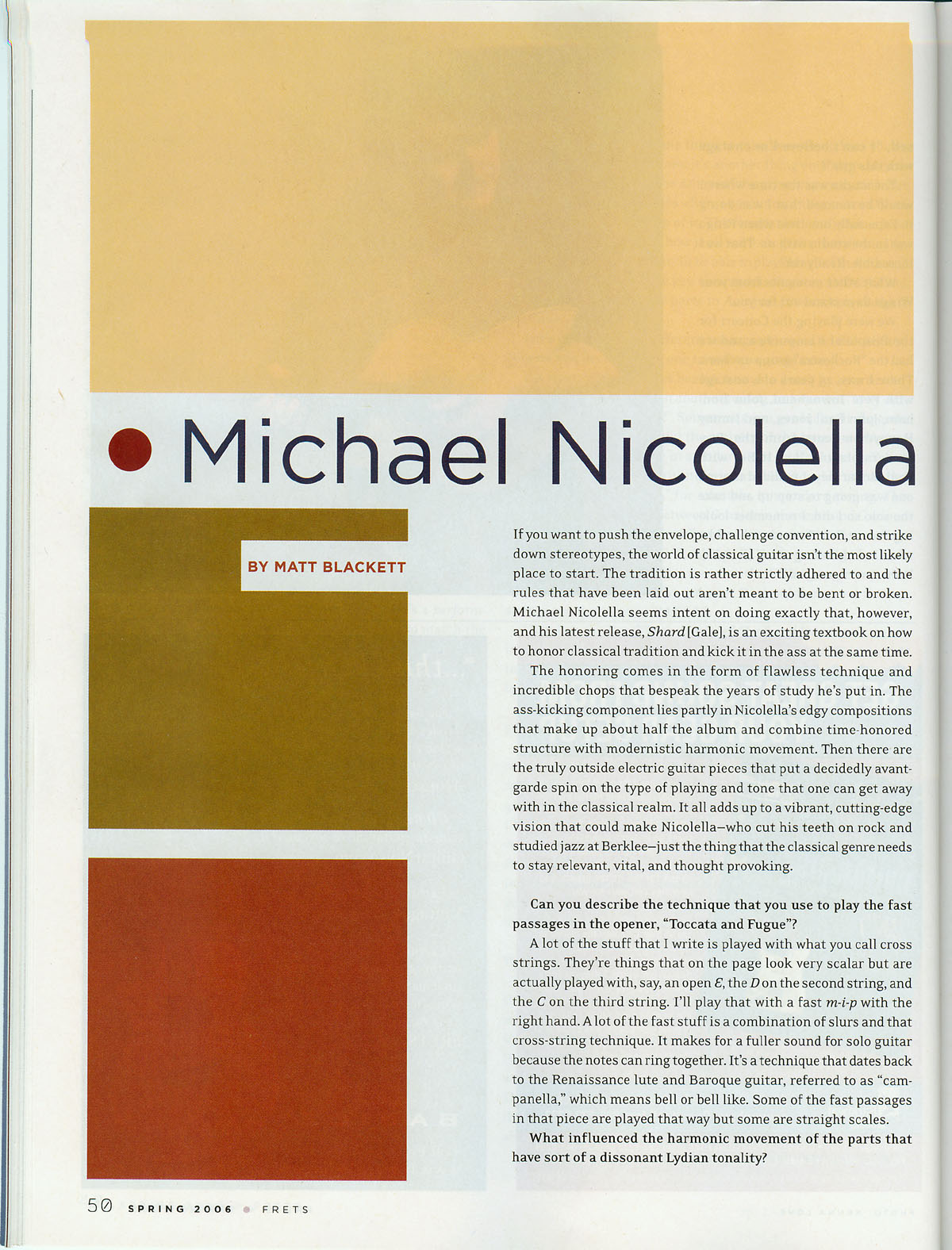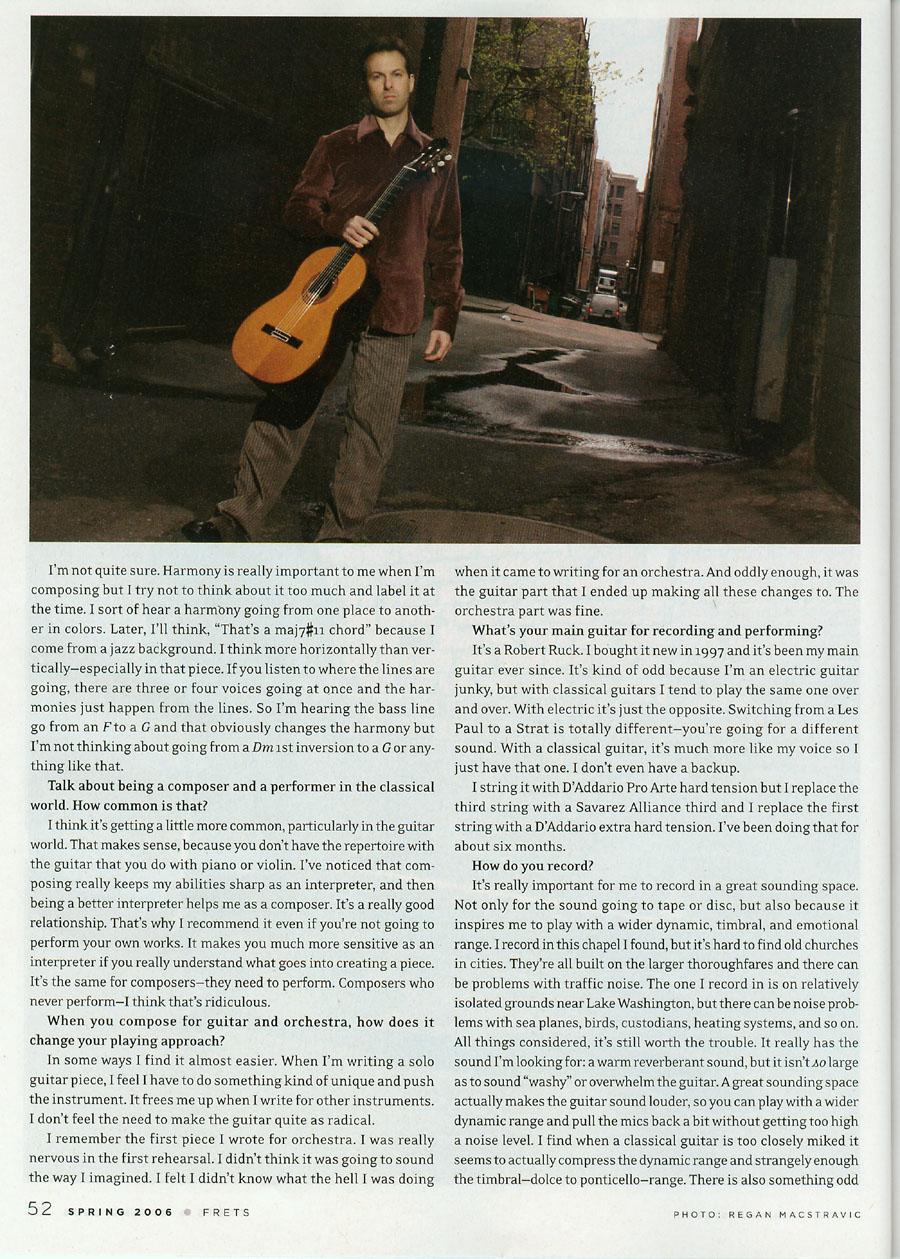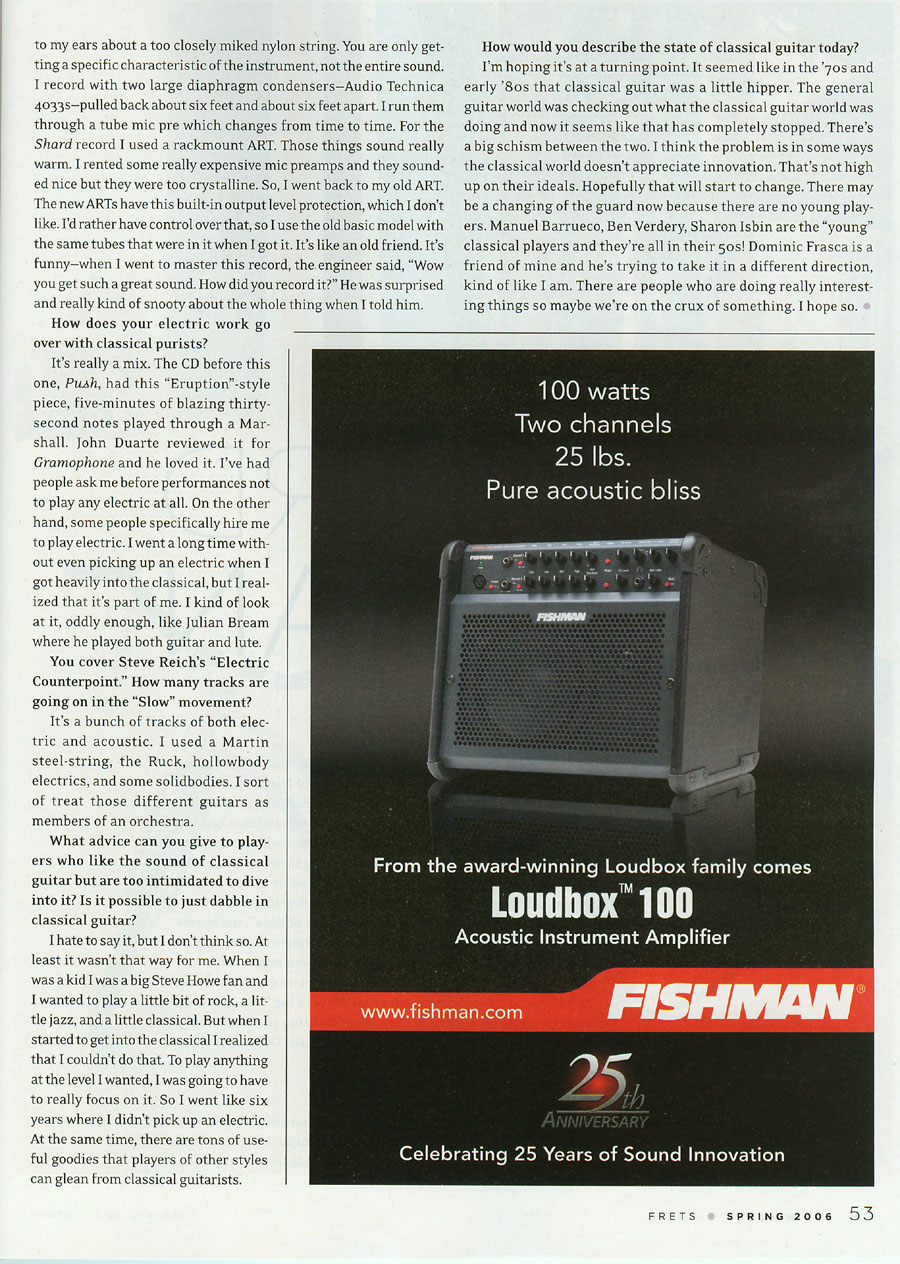 ---
February 2006
by PAUL FOWLES
"Shard" Michael Nicolella with the Northwest Symphony Orchestra conducted by Anthony Spain
This disc represents what I suspect is a not altogether desirable first for the pages of CG, the jewel case sporting a stern label bearing the words Parental advisory - Explicit Content. I'm no authority on U.S. law, but isn't this the kind of stuff Frank Zappa was campaigning against with his Statement to Congress in 1985? But rules are rules, and the contents of this disc were duly heard in camera by my 79-year old mother before being unleashed on my innocent and impressionable mind. The supposedly offending item is Grab It! by Jacob Ter Veldhuis, which uses voice samples from prisoners serving a life sentence who, amazingly enough, let slip the occasional coarse turn of phrase. So if the six-year-old apple of your eye expresses a wish to trade one of her Bratz for a Michael Nicolella CD, just say no. But it should also be stated at the outset that Grab It!, arranged for electric guitar and boombox from an original for tenor saxophone and boombox, emerges as one of the most striking items of all in this challenging but endlessly rewarding release from one of the contemporary guitar's most gifted stars.
Starting with his own Toccata and Fugue for solo classical guitar, Nicolella soon establishes his credentials as a composer fully capable of negotiating the intricacies of this most exacting of contrapuntal forms. Until the explosive chordal climax, the language is lyrical, even retro at times. Likewise the sumptuous four-movement Guitar Concerto, in which Nicolella in the company of Anthony Spain and the NSO offer the premiere recording of a work first performed in 2002. It all represents a fulfilling and considerably less weighty agenda than what might be feared, although the familiar textures of Electric Counterpoint nonetheless represent a welcome breather in this volley of new ideas.
In the suitably jagged Elliott Carter miniature from which the disc takes its main title, Nicolella's virtuosity emerges victorious as always in 2'29" of finger-crunching brilliance. At the other end of the expressive dial, Joshua Kohl's Ode Tounami, inspired by an indigenous recording from Mali, finds Nicolella at his most restrained and spiritual. All this, together with the cosmic electronics of Christopher DeLaurenti's grey angel and a valedictory slice of 'straight' guitar in David Paul Mesler's Lullaby, makes for a disc that surely bodes well for the guitar in the 21st century and beyond.
I have yet to review a Nicolella disc without invoking the name of his fellow Seattle luminary, a certain James Marshall Hendrix. If the great man were around today, he would surely be urging us to turn on to the music of such cutting-edge talents as Michael Nicolella. If I speak less than the truth, may the spirit of Jimi strike me down with a burning Strat...
© ASHLEY MARK PUBLISHING
---
Transit
A spectacular work
March 19, 2003
Post modernist music -
by REX HARLEY
'... Nicolella's tremendous virtuosity ...'
Transit is a post-modernist piece, par excellence. And if you think that sounds a bit high-flown, wait till you read the sleeve notes! There is only one performer involved: the remarkably versatile, Seattle-based guitarist Michael Nicolella. All other 'instrumentation' is computer generated, and programmed by the composer, John Fitz Rogers, and, like it or loathe it, this is a spectacular work.
On one level, the title can simply be taken to refer to the 'cross-over' nature of the music, but this is nothing like the kind of synthesis one normally associates with the rock/classical fusion. For one thing, the piece is more than a set of separate movements; it's actually quite tightly constructed. For another, it's rhythmically extremely complex in places, and harmonically challenging. It's contemporary. It's experimental. But the liner notes also make a point of telling us that the instruments involved are a Gibson 'Les Paul', a Fender Stratocaster and a 1950's Guild guitar, names that will set the hair tingling on any rock aficionado's neck.
Be warned then. If you're a purist, you'll probably hate what you hear; if you're musically a pluralist, especially one whose life-span covers the '60s and '70s, you're in for a treat. Various guitar styles are showcased, but none is a pastiche. Where I think I can hear references to Frank Zappa, Jimmy Page, Steve Miller, Larry Coryell, Pat Metheny and, of course, Jimi Hendrix, another listener will no doubt find a handful of other names I've either forgotten or don't know.
Transit begins in a deceptively soft and spacious way. Introduction opens with a single synthesized flute, others gradually joining to create a sound reminiscent of the glass harmonica. The first movement proper has the guitar effectively feeling its way, rhythmically and harmonically, against a spacious accompaniment. This is developed in the second movement, with shifts in tempo and a sense of developing urgency; but it is not until part four that we fully enter the world of rock, with appropriate bass riffs and drum sounds. Part five is jazz-rock territory and we begin to get a feel of Nicolella's tremendous virtuosity as the guitar solo builds and soars. Abruptly, the rhythm changes and we're enveloped by a strange mélange of funk and heavy metal, articulated by a series of dislocated tempi. Part seven features rapid bursts of synthesizer. Melody sometimes emerges in snatches which, bizarrely, seem to echo Bach, then Hindemith. The guitar work in section eight takes us back to the tentative ground of the second movement; then we're into the world of heavy rock once more. Section ten, the improvised guitar movement, is perhaps the most obviously lyrical, and beautiful of the piece. This segues into the final section, which builds to an almost frenzied climax, and Transit ends in a sonic antithesis of its opening bars.
It's hard to find comparisons. Pat Metheny, perhaps, in Steve Reich's Electric Counterpoint. But that's a very stately piece compared with this roller coaster. The closest I can think is Jan Hammer's album from the 1970s, The First Seven Days which, paradoxically, doesn't even use a guitar; everything is synthesized. Perhaps there is nothing quite like it. The only way to find out is to listen for yourself!
Copyright © 19 March 2003 Rex Harley, Cardiff, UK
---
by Jason Serinus
* Mr Serinus is a syndicated music critic. This review ran in the Bay Area Reporter - San Francisco (6/27/02), Seattle Weekly (6/27/02) and www.hometheaterhifi.com. (In some of these publications the review was edited)
JOHN FITZ ROGERS/MICHAEL NICOLELLA "Transit" Gale 02-003

Performance ***** (5 out of 5 stars)

Sound**** (4 out of 5 stars)
One thing is for certain: this recording will engender strong reactions. Some will agree with the liner notes' pretentious prose, which suggests that this collaboration between Rogers and Nicolella provides "an electrifying sonic network of speed and synthesis, a forty-four minute panorama of intangible miracles." Others will find themselves screaming at Transit's dizzying drive, at such sections as the three and a half minute "V," which begins with programmed sounds resembling a recording sped up half way to infinity, only to end with Nicolella's electric guitar further hammering the point home.
In Transit, composer Fitz Rogers, showing the influence of Led Zeppelin, the Steve Miller Band, and Jim Hendrix, weds his computer-generated organs, pianos, drums and array of fantastic sounds to the astounding musicianship of his chosen collaborator, guitarist Michael Nicolella. Playing three guitars, a 1998 Fender Stratocaster, 1979 Gibson Les Paul Custom, and 1954 Guild X-150 archtop, allied with various amplifiers and stompboxes, the Seattle-based Nicolella is a virtuosic wonder.
Transit begins slowly, with several minutes of quasi-celestial computer-generated sounds. Once the guitar enters, however, the mood changes, as the conflict and chaos of earthbound existence rise to the fore. The work is studded with frequently stunning juxtapositions, its unapologetic commentary destined to either enrapture or force one to run for cover while invoking the names of Bach, Mozart and the entire Hindu panoply.
In many ways, Transit seems an appropriate commentary on life in the 21st century. After all, in a world where Easter night channel surfing takes you from Charlton Heston's Moses proclaiming God's commandment, "Thou Shalt Not Kill," to fresh footage of Israeli politicians screaming for vengeance; where George Bush, who stole the Presidency, condemns Fidel Castro for not holding free elections, far more than hard driving irony and Strauss waltzes are in order.
Parts of this virtual symphony seem ecstatic, others funereal. Its pace and multi-layered chaos will either energize you or give you a headache. Either way, or both, it must be heard.
back to top
---
August 2002
by Robert Silverstein
Transit
A flashback to key early 70's mergers of avant-garde, neoclassical electronics and rock, the 2002 release of Transit pairs the electric guitar work of the classically trained Michael Nicolella with the "virtual ensemble" keyboards and programming of John Fitz Rogers. On their superb, eleven track two part CD, Transit, Nicolella evokes the spirit of Jimi Hendrix, while Rogers' symphonic synthesized backdrops are the perfect foil for Nicolella's daredevil processed guitarscapes. Someone said it sounded like Conlan Nancarrow meets Steve Hackett and as such should be filed under modern instrumental music as played by rock musicians. For another side of Nicolella check out his two classical guitar albums Push and Bach, Britten, Martin
---
May 21, 2002
Vitaly Menshikov
Six out of six stars "masterpiece"
---
May 05, 2002
By Melinda Bargreen
Seattle Times music critic
"Transit," new music of John Fitz Rogers, with Michael Nicolella, electric guitar (Gale Recordings).
Michael Nicolella, a Seattle guitarist most classical fans will know best for his acoustic work, takes on a huge project here: the new, 11-movement "Transit" by John Fitz Rogers for electric guitar and "virtual ensemble" (i.e., synthesizers/computers). Categorizing this piece, and this performance, is next to impossible; it's a synthesis of classical, rock, jazz and all sorts of other elements.
Even from this writer's firm bias for acoustic instruments, the array of sounds here is amazing, from the pliant flutes of the opening through a virtual orchestra of keyboard, percussion, wind and other computer-generated sounds. Nicolella's guitar, especially in the two lengthy improvisational sections, is given a virtuoso turn that transcends the usual limitations of that instrument.
back to top
---
The Contemporary Classical Music Weekly
June 24 - July 1, 2002
Transit Composer: John Fitz rogers, Electric guitar: Michael Nicolella
A single 44-minute work with the architecture of classical music but the drive of rock. Intense ambient masterwork that weaves classical, jazz, pop and rock into one fantastic musical tapestry. Gorgeous playing by Nicolella, a guitarist with lots of talent and technique.
---
April 2003
by John Duarte
"Push" Michael Nicolella

A highly eclectic programme presented by a highly accomplished guitarist
Michael Nicolella began as a jazz guitarist, transferred his affections to the classic instrument and now applies his skills to both in due turn. Others have 'crossed the track' in one direction or the other but none has done so with the technical and/or musical success as Nicolella, who,chameleon-like, achieves comparable distinction in both fields. I can think of no-one else who could juxtapose such disparate pieces as Berio's SequenzaXI and Jimi Hendrix's Little Wing at the end of his programme and still be 'heard' as two different players of outstanding quality.
Much is owed to the sagacity of his approach to the classic guitar. Instead of seeing it merely as an alternative medium for jazz he embraced it and its music as 'anotherworld', bringing with him an open musical mind and the well-developed left-hand technique of a jazz guitarist. He studied with famous teachers of the classic instrument, and still keeps the two musical areas firmly compartmented.
What is there to be said of a record whose programme is redolent of a salesman who empties his bag on ones doorstep, with items (not least Rogers'breathless Push) that will frighten the average classic-guitar lover, and others may try the patience of the devoted jazz buff? It is hard to decide at whom this remarkable disc is aimed, but I recommend it to all whose minds are open to a display of stunning technical skill and unfailing musicality over a very broad spectrum. Those who insist on putting things into pigeonholes will have a hard time with it!
back to top
---
December 2000
by Paul Fowles
"Push" Michael Nicolella
A useful indicator of the guitar's development over the last few decades is the state of the debut recording. Not that long ago, young hopefuls would display their skills via a mainstream program containing at least one major work, usually the Bach Chacconne, and one new contemporary work, usually commissioned by or dedicated to the performer.
This remarkable release from Seattle-based Michael Nicolella shows how times have changed. The Piazzolla notwithstanding, Nicolella's uncompromising choice of material never once loses the momentum established at the outset by Sierra's brilliant Toccata y Lamento.
The very presence of Berio's Sequenza XI is sufficient to ensure Nicolella's arrival will not go unnoticed. Although it is a work which tends to be esteemed rather than enjoyed, the very state of having recorded it can seriously further your career.
However, it is in John Fitz Rogers' eponymous Push for solo electric guitar that one becomes fully acquainted with the diversity of Nicolella's talent. In 5'20" of breathtaking heavy rock pyrotechnics, we find ourselves a long way from the days when classical guitarists would dip a toe into popular music by presenting some third party's intractable settings of Gershwin and Cole Porter.
Elsewhere, Nicolella is joined by a supporting cast of chamber musicians and a singer for the Berio arrangement and his own contemplative Bridges. The inclusion of this work together with the Three Brief Episodes for solo guitar, is significant. For much of the twentieth century the guitarist/composer was an endangered species, and it is with much relief that the likes of me are now able to issue regular bulletins on its global renaissance.
But all of this would be of little worth if it were not for the fact that Michael Nicolella emerges as a superb all-round guitar player whose dynamic and engaging performance shows him to be more than equal to the challenges he has set himself.
Nicolella finally takes up his '98 Strat for a wonderfully evocative, and dare I say it, nostalgic account of Little Wing, the sincerity of which is illustrated by his unconditional statement that '...Jimi Hendrix will prove to be one of history's most important and influential guitarists.'
There speaks a fully enlightened musician of our time.
back to top
---
Hartford Advocate (et al*)
by Jason Serinus
* Mr Serinus is a syndicated music critic. This review ran in the Hartford Advocate(4/26/01), East Bay Express - San Francisco (5/24/01), Seattle Weekly (7/12/01) and www.hometheatrehifi.com. (In some of these publications the review was edited)
MICHAEL NICOLELLA PUSH Gale 00-002

Performance ***** (5 out of 5 stars)

Sound**** (4 out of 5 stars)
From the first driving notes of Roberto Sierra's Toccata y Lamento (1987), Seattle-based classical guitarist Michael Nicolella, a first prize winner in several solo classic guitar competitions, impresses with his virtuosic musicianship. Equally impressive is Nicollela's immensely challenging modern program for acoustic and electric guitar, which pushes the boundaries of what one might consider technically playable.
The disc Piazzolla's captivating Primavera Portena ((1970), Takemitsu's Equinox (1993), Jimi Hendrix's Little Wing (1967), John Fitz Rogers' Push (1997 - written for Nicolella), two of Nicolella's own compositions, plus works by Berio, Bryan Johanson, and Richard Kranjac. Nicolella's Bridges (1990) for flute, violin, guitar and percussion is an especial wild and beautiful ride. Another highlight is the wonderful soprano Thomasa Eckert's rendition of Berio's chamber arrangement of the traditional "Black is the Color of My True Love's Hair," her voice triumphing over an over-resonant acoustic to perfectly capture the innocence and purity of the verse. Berio brings a very different consciousness to this folk song than did Britten to his folk song arrangements.
When I shared Rogers' driving, mile a minute, machine gun-like Push with eight-year old Morgan Saltz, she smilingly confided that it made her feel "excitement…like turning somersaults in my stomach." After playing Berio's challenging Sequenza XI (1988), whose uncompromising atonal outbursts, punctuated by hard raps on the guitar's body, may remind you of neighbors banging on the door, shouting "Turn down that infernal racket," I told her that some might not consider it music. "Why?," she asked with puzzled countenance. "It has rhythm, it has melody - why would anyone say it's not music?"
After Berio and Rogers, Jimi Hendrix's contribution seems mellow indeed. With blessings to the young, I highly recommend this disc to music lovers with open minds and a taste for adventure.
---
Milwaukee Journal Sentinel
Sunday, January 7, 2001
by Tom Strini
Journal Sentinel classical music critic
Classical guitarist Michael Nicolella, "Push," (Gale Recordings 00-002)
Michael Nicolella taught at the Wisconsin Conservatory of Music and Lawrence University from 1991-'95, while his wife, painter Ann Gale taught at the Milwaukee Institute of Art and Design. They now live in Seattle.
In his Milwaukee days, Nicolella played with a lofty objectivity underscored by repertoire choices - lots of Bach. The pristine clarity of his sound remains on this new disc. Even under the scrutiny of close miking, his playing is free of clicks, buzzes and muffles.
The great discovery here is a new level of intensity. The higher temperature matches the repertoire: "Toccata y Lamento," a furious workout by former Milwaukee Symphony resident composer Roberto Sierra; "Primavera Porteno," a profoundly despairing tango by Astor Piazzolla, in Nicolella's penetrating arrangement; Berio's Sequenza XI and "Black is the Color"; Takemitsu's enigmatic "Equinox"; Richard Kranjac's "Tales of Velocity and Abandon"; Bryan Johanson's driving "Open up your Ears": and John Fitz Rogers' rock-god rave-up, "Push" for electric guitar.
On the gentle and contemplative side are Nicolella's own "Bridges" and "Three Brief Episodes," and Jimi Hendrix's soulful "Little Wing, " which is also played on electric guitar.
This engaging, intriguing, wide-ranging music makes me glad that Nicolella has strayed from the beaten path. The command and flair that he brings to it affirms what I thought when I first heard him ten years ago: Michael Nicolella could become one of the very best.
back to top
---
2001 (#121)
by Stephen Griesgraber
"Push" Michael Nicolella
Michael Nicolella's most recent release contains only two of his own works, but one of these, Three Brief Episodes, displays such a rare beauty that it had to be mentioned here. The liner notes say that this piece was inspired by Webern, George Jones, and Soundgarden. These seemingly disparate influences are brought together to create a work that sacrifices nothing in its brevity, has an uncommon melodic grace, and still moves with depth and energy.
In addition to Nicolella's own compositions, the disc features premiere recordings of a three movement solo guitar piece by Richard Kranjac, and the title track Push for solo electric guitar by John Fitz Rogers. Also included are Takemitsu's Equinox, Berio's Sequenza, an arrangement of Berio's arrangement of Black is the Color, and a solo electric guitar performance of Hendrix's Little Wing. All tracks feature Nicolella's solid, robust and confident commanding technique. For a recording to feature original compositions, premieres, electric guitar performances, chamber works and established master pieces of the contemporary repertoire, is truly unique. It should be a welcome addition to the collection of anyone interested in new directions for the guitar.
back to top
---
Winter/Spring 2001
by James Reid
"Push" Michael Nicolella
Seattle guitarist Michael Nicolella is clearly a guitarist at ease with contemporary music, and this ease is ably demonstrated in this very eclectic release. The recording includes works for solo guitar, chamber music including guitar, and two tracks played on electric guitar. Initially, it is jarring to hear the electric compositions included here, because the sound is so unlike the classical guitar. But the title piece, "Push," aside from the sound quality, shares some of the same charecteristics as other tracks on the CD.
Nicolella has an affinity for pieces that are virtuosic, as evidenced by his inclusion of Berio's Sequenza XI. He plays this very demanding piece with great conviction, never shying away from the daunting requirements that the piece makes on a performer. There are also many lyrical moments on this recording in which Nicolella demonstrates a sensitive side to his persona. In particular I was taken by his performance of the Berceuse by Richard Kranjac and the Berio arrangement of "Black is the Color." Fittingly, the recording concludes with a tribute to another Seattle guitarist, Jimi Hendrix. This is a more gentle treatment than Stevie Vaughn's, for example, but it is effective nevertheless, and it makes for a very satisfying conclusion to a very convincingly played program.
back to top
---
Sunday, July 25, 1993
by Don Lewis
Journal Reviewer
"Bach, Britten, Martin" Michael Nicolella (Gale 92-001)
The temptation was irresistable. halfway through guitarist Michael Nicolella's recording of Bach's Ciaccona (from the violin partita BWV 1004) I had to put on Andres Segovia's recording of the same piece. It was a terrible mistake: I don't even think I'll ever listen to the Segovia version again. aside from the awful quality of the recording itself, the Segovia performance lacks the clarity of line, the overall concept that Nicolella brings to this 12-minute work.
Providence-born Nicolella, a graduate of Yale and Berklee, lives in Milwaukee now and is on the faculty of the Wisconsin Conservatory and Lawrence University. He is a major addition to our town's music scene as is amply evident in this, his debut recording.
Included are Bach's "Prelude, Fugue and Allegro", BWV 998; Frank Martin's Quatre Pieces Breves; the Bach Ciaccona and Benjamin Britten's Nocturnal, Opus 70. Nicolella essays this varied batch with a facility of technique that is amazing. it's just plain fun to hear the dynamic and textural shadings he can bring to the often moody, introspective Martin pieces, for examle.
The Bach is beautifully played. Nicolella knows the value of the spaces between notes, the split-second intervals that give each note time to sound. He uses those tiny spaces masterfully.
Britten's Nocturnal is actually a set of variations on a theme by John Dowland, with the theme not stated until the end of the piece. Nicolella essays these brief, pithy pieces, titled "Musingly," Restless" and so forth, with high virtuosity. This is classical guitar at its best.
back to top
---
Winter 2009
by Mark R. Switzer
GFA 2008
Michael Nicolella played the 11:00am concert and did a beautiful job performing some old warhorses and some new pieces. He began with Giuliani's Andante Sostenuto, Op.106, No.1; Scarlatti's Sonata in E major, K.380 and his own compositions, Surfacing Through the Mire and Toccata and Fugue. He then switched from classical guitar to electric guitar and played Jacob ter Veldhuis's Grab It! for electric guitar and boombox. This, he followed with his rendition of Hendrix' Little Wing and, for an encore, Takemitsu's arrangement of McCartney's Yesterday - very beautifully played indeed.
back to top
---
Simplicity of classical guitar complements adventurous electronic concert
February 3, 2007
By GREGORY BARNES
You can appreciate Beethoven and Brahms even if you don't know the difference between a crotchet and a quaver. But can you appreciate electronic music pioneer Paul Lansky if you don't know the difference between stochastic processes and granular synthesis?
Heck yeah!
Lansky wrote, "Music succeeds when its machinery is less interesting than its tunes." That was exactly the case in his "Dancetracks," opening the latest USC Southern Exposure program, "Exposed Wiring III," Thursday night.
A computer-generated drum track bopped along quietly as guest soloist Michael Nicolella brilliantly improvised on electric guitar.
"A Guy Walks Into a Modal Bar" was worlds away: computer-generated multi-channel audio built on endless marimba-like resonances in 360-degree surround-sound.
"A is for ..." eschewed computers in favor of a USC faculty chamber ensemble, speaker (human, that is) and video.
Two other Lansky works, "Aimless Air" and "Crooked Courante," were for Nicolella's gorgeous-toned, un-amplified classical guitar, and in that simplicity was the greatest beauty of the evening.
A close second was Nicolella's own composition, a vivid toccata and subtle fugue, played with impressive technique and incredibly clean articulation.
Lansky was in the audience (standing-room-only, as usual) and chatted about his music in a warm, self-deprecating manner, belying his extensive musicianship and computer-programming prowess. He runs the Princeton University electronic music project, and yes, that's the home of the geek-revered "Laptop Orchestra."
Reginald Bain gave the first performance of "The Music of the Primes" for laptop (Macintosh, of course). Bain created it at xMUSE, the School of Music's Experimental Music Studio. He explained how prime-number rhythmic sequences and layering at different tempos became the musical language of the composition.
Nicolella brought the esoteric evening to an electric-guitar close with Jimi Hendrix's "Little Wing." There's no question that Nicolella is a superb guitarist, hugely successful in traditional and crossover music.
The electronic music was heard on a spectacular sound system designed by talented USC techie Jeff Francis.
The Southern Exposure New Music Series, directed by John Fitz Rogers, recently was awarded the 2007 Chamber Music America/ASCAP National Award for Adventurous Programming.
It isn't hard to see why.
Barnes, a violist, is a former member of the Virginia and Atlanta Symphony Orchestras, a conductor of youth and adult orchestras, and a visiting lecturer at USC.
---
November 19, 2003
by David Lowry
The Guitar Reigns under Nicolella
This is a review of a solo guitar concert by Michael Nicolella held Nov. 14 at the USC School of Music Recital Hall as part of the Southern Exposure New Music Series.
The guitar, often much maligned, is one of music's most amazing instruments. Like its many close cousins Ð sitars, lutes, ukuleles, etc. Ð and its distant cousins, the stringed keyboard instruments, it has the limitation of a tone immediately decaying after being struck. Novice players drive one up the wall. Artists, however, can convince their mothers that guitars can play legato lines and pronounce words.
Michael Nicolella walked into Columbia on Friday night and made it clear that he can fool mother and make a major violinist jealous. Nicolella has been called the successor to Andrés Segovia, who may be the éminence grise of modern guitarists, but who never had to face the 21st century. Nicolella knows he is at the forefront of the profession in his day, and he loves it. So did the over-capacity audience.
Nicolella opened with an innocent acoustic piece by Manuel Ponce, easing into the performance as he sensed the acoustics of the room and the smell of the crowd. Then he went straight into a 1971 Cuban work by Leo Brouwer that took the audience back to the pre-Star Wars era. Particularly moving was the ambiance of the composer's isolation from the free world. How can an acoustic guitar produce such incredible space-age sounds without electronics? Answer: put it under the hands of a virtuoso musician who understands the age and the instrument. Nicolella has it.
American Steve Reich's Electronic Counterpoint achieves in 20th-century terms what Wagner achieved in great chunks of his 19th-century music Ð making the clock stop. The repetition of musical fragments and textures (please don't call it "minimalist") literally makes one lose all sense of time. This work requires electric guitar and prepared tape in a three-movement work that ends with the insistent, mesmerizing kind of music that Reich's 1988 Different Trains exhibits. You simply don't want to get off that train.
The second half of the program included a piece by Southern Exposure's artistic director, John Fitz Rogers, a 1997 piece called Push. This is classic virtuoso music for the electric guitar, played by the virtuoso for whom the work is written.
The final work on this masterful program required tenor sax, piano, marimba and electric guitar. Louis Andriessen's Hout (Dutch for "wood") is a chase of fascinating musical fragments in four-part canon, with the three guest performers from the School of Music rising to a level consistent with the guest artist.
The concert was free, and it was a whale of a lot better than some of the things for which we pay. Ð David Lowry
---
Tuesday, June 11, 2002
By R.M. CAMPBELL
SEATTLE POST-INTELLIGENCER MUSIC CRITIC
"Guitar society closes season on a diverse and superb note"
The Seattle Classic Guitar Society has been bringing the creme de la creme of the guitar world to its home base for more than 40 years. But it has not neglected those who chose to live here.
Michael Nicolella, who closed the 2001-02 season this weekend at Nordstrom Recital Hall, is one example. A graduate of such prestigious schools as Yale, Berklee College in Boston and Accademia Musicale Chigiana in Italy, Nicolella has received a number of local fellowships and grants and tours widely, Old World and New.
Judging from his recital on Saturday, Nicolella wants to be an artist of the moment, a noble and worthy ambition. Several works had close connections to the guitarist. In some cases he commissioned them and in others he played the premiere. Christopher DeLaurenti's "Grey Angel," for instance, was given its first outing this weekend. Nicolella is a guitarist not embarrassed to switch back and forth between the acoustic guitar, the traditional focus of the Seattle Classic Guitar Society, and the electric guitar. He is also a composer and as such played his agreeable "Surfacing Through the Mire," written in 1999. But Nicolella is not addicted to today. The early 19th-century Spanish composer Fernando Sor opened the program and Astor Piazzolla, the Argentine composer who reinvigorated the tango, closed it. In the midst of everything else, an arrangement of Bach's Sixth Suite for solo cello, by Nicolella, was tucked in.
From J.S. Bach to Elliott Carter to Joshua Kohl, Nicolella proved to be a superb technician. He has facility that is clear-headed and articulate and quick. He has as much purpose in music of the 20th or 21st century, as he does with music of the 18th.
He is a considerable stylist and a musician of balance. He knows when to push forward and when to hold back. One virtue is not sacrificed for another. Nicolella's Bach had admirable conviction, so did his Sor. He is also a persuasive advocate of the contemporary music.
Although the works of Tom Baker, Anthony Gatto and DeLaurenti for electric guitar had interesting possibilities, they ran out of inspiration early on in their exposition.
David Mesler's "Lullaby" was pretty and sweet, such as a lullaby should be, and Carter's "Shard" was typically spiky and smart. I liked Kohl's "Ode Toumani," which was quick and decisive in its point of view.
At the end of all this diversity, one might not expect so much from the single offering of Piazzolla ("Primavera portena") by Nicolella. But, the reading was one of the highlights of the evening: It had panache and urgency.
---
Thursday, April 11, 2002
by Anne Midgette
"Stocking the Stream With New Composers"

(the following is a direct excerpt from a review of the new-music festival, MATA)
The festival which is actually run by two composers , Eleanor Sandresky and Lisa Bielawa, is devoted to young composers, often unknown, generally in their 20's and 30's.
Ms. Sandresky cited John Fitz Rogers as an example. "He was one of the hot young composers on the orchestra circuit," she said. "He won every award . But he said, 'It doesn't mean anything.' So he spent two years writing a 45-minute piece for electric guitar."
The result, "Transit," opened this year's festival on Sunday, although it was anything but a conventional warm-up piece. Rather than priming listeners for pleasures to come, it plunged them into an impassioned, intense manifesto that used the guitar and a wide palette of electronic sounds to comment on, it seemed the whole of music history. Ranging from New Agey pipes from the synthesizer to meditative thoughtful twangs from the electric guitar (expertly played by Michael Nicolella) to some rock-band styled flourishes, amplified to rock-band volume, it made for a long if heartfelt journey.
back to top
---
Tuesday, April 20, 1999
By Joan Reinthaler
"Nicolella Advancing the Guitar Repertoire"
Since the passing of Andres Segovia the guitar world has needed an advocate who would continue the job of building the guitar repertoire. Perhaps Michael Nicolella who performed at the Phillips Collection on Sunday, is that person. An artist with eclectic tastes and a contemplative bent. Nicolella played a program that was almost all by American composers, almost all written in this decade.
Three of the four pieces he has brought into the repertoire - the sedate and oddly named "Tales of Velocity and Abandon" by Richard Kranjac, an elegy by Tom Baker and his own "Three Brief Episodes" - are quiet, gentle works with a decidedly French flavor. The fourth a piece for electric guitar by John Fitz Rogers called "Push" that was most notable for its intricate rhythms and murky and scrubby sounds, was probably more fun to play than to listen to. The afternoon's most upbeat piece, by Bryan Johanson and inspired by Jimi Hendrix was called "Open Up Your Ears."
Nicolella's delicacy and style are a break from the rhythmic affectations and extremes of tone color that have characterized so many guitarists in the past. But he has retained the extraordinary concentration that makes guitar concerts so powerful, and that was nowhere better tested than in his reading of Steve Reich's "Electric Counterpoint" for electric guitar and tape. In its own repetitive way, this music evolves rhythmically and harmonically, and coordination with the tape requires close attention. What is not clear in this music, all components of which ultimately emerge from speakers, is what a live guitar participant adds that a recorded one couldn't.
---
May/June 1999
By Mike Shanahan
"Michael Nicolella at Seattle Mennonite Church"
Michael Nicolella had a good turnout for his richly varied, beautifully played concert on March 26th at the Seattle Mennonite Church. The program featured music primarily composed in the late 1980's and 90's, though he reached back to 1952 for the brief opening piece, Lou Harrison's Serenade. Nicolella's own considerable gifts as a composer were on display in the second selection of the evening, Three Brief Episodes, which he composed roughly two years ago. The progression of music stunningly well executed continued with the world premiere of Tom Baker's Elegy No. 3, the composer at hand in the audience to hear Nicolella's exquisite performance of Baker's 1998 composition.
While the concert continued on the solo classical guitar for fine interpretations of works by Bryan Johanson (Open Up Your Ears), Richard Kranjac (Tales of Velocity and Abandon) and a gorgeous version of the late Toru Takemitsu's Equinox, Michael switched to electric guitar for the final piece of the first part and the opening selection in the second half. Steve Reich's Electric Counterpoint, in which Nicolella played live to a dense tape track recorded by him as well, provided a great finish to part one of the recital, with the intricate mixtures of sounds on the tape played off against Nicolella's virtuoso solo performance.
The electric guitar returned for John Fitz Roger's Push as the start of part two; the performer looked like a rock star as he played, standing upright, this dazzling showpiece. After one of Brouwer's more avant garde works, Danza del Altiplano, Nicolella turned to another leading 20th century composer, Berio for Sequenza XI. Here as throughout the concert, Michael provided insightful commentary that complimented the splendid gifts of his playing.
Programming seems to be another talent of Mr. Nicolella's; after the wide ranging survey of some of the most exciting and interesting recent works for the instrument, he closed out the program with three tangos by Piazzolla. These were extraordinarily full arrangements of Verano Portena, Milonga del Angel, and Primavera Portena. As the most often-heard works on the program, it was revealing to hear how well Nicolella compared to other artists who have transcribed and executed these works; the two seasonal tangos that opened and closed the suite were especially full-bodied. One wondered for a moment if Michael was playing a standard transcription, only to realize that these were fuller, better arrangements than the standard ones available in the sheet music trade.
A Jimi Hendrix arrangement on electric guitar, Little Wing, closed out the evening. The audience sat in rapt attention throughout the evening, at a feast (and feat!) of music that ranged over so much of the best in recent music for classical and electric guitar. A varied and successful concert indeed.
---
Saturday, March 23, 1996
By Tom Strini
Journal Sentinel music critic
"Nicolella's classical guitar soothes the soul"
The salient qualities of Michael Nicolella's guitar playing are fluidity, clarity and plain-spoken eloquence. His musical voice matches his instrument's: intimate, thoughtful, not given to operatic drama.
Friday evening, Nicolella's classical guitar style matched well with Bach's Prelude, Fugue and Allegro (BWV 998).
The music spun from the guitarist's hands with placid, profound inevitability, the musical equivalent of Christian equanimity. You could imagine Bach at the organ, playing this way on Sunday morning to soothe the souls of the Lutheran faithful. It still soothed the soul, 250 years later in the University of Wisconsin-Milwaukee Fine Arts Recital Hall.
In the Bach and two other meditative works - Manuel Ponce's Prelude in E and Nicolella's own "Immortal Autumn" - his sound was remarkably flutey and reedy, as organs can be.
Like an organist, Nicolella "reset stops" - changed the angle or placement of right-hand attack - to abruptly change timbre and set off melodies and sections.
This approach made Tarrega's familiar "Caprichio Arabe" less dramatic than it can be, but more exquisite, more suggestive of the delicate traceries of Moorish architecture.
Nicolella can play fiercely, as he showed in the snapping, snarling bits of Roberto Sierra's "Toccata y Lamento" 10 of George Rochberg's 51 "Caprice Variations" and Astor Piazzolla's "Primavera Porteno".
His ferocity though always remains objective. What in his playing makes him seem to be playing in the third person, never the first? A refusal to exaggerate, even when a pair of corny etudes by Guile Regondi are begging to be tear-jerked around?
Nicolella's cool fire did not serve the third-rate Regondi so well, but so what? Piazzolla's "Primavera," a first-rate representative of this composer's re-thought tango style, bloomed fully in Nicolella's hands and yielded its hot, bitter fragrances. This music is about strong, passions encased and smoldering within the cold, unyielding disciplines of the tango. Like Bach, Piazzolla has found in Nicolella a natural interpreter.
---
Sunday, May 7, 1995
By Tom Strini
Journal Sentinel music critic
"A guitarist to count on in an emergency"
Bach's "Chaconne" transcribed from the Violin Partita BWV 1004, has become perhaps the greatest monument of the classical guitar repertoire. The majestic "Chaconne" is a huge technical and interpretive challenge.
Michael Nicolella was about ten bars into it on Saturday night, before a packed recital hall at the Wisconsin Conservatory of Music, when a firetruck and ambulance roared, sirens wailing and lights flashing, to a halt in front of the apartment building next door.
Nicolella never missed a beat. He played on with lofty detachment. The opening section was like a glacier, not in its pace but in its icy implacability and objectivity. Then, an avalanche of emotion at the suddenly hot climax, followed by a warm, contemplative denouement . The emergency lights were still flashing through the conservatory windows as the audience exploded into applause.
Give some credit to that audience , by the way. They also serve who only sit and listen, and the folks in the seats deflected all distraction and stayed with the music.
Commotion outside was not all Nicolella had to contend with at this solo recital. Extreme heat inside played havoc with his strings, forcing him to retune constantly, often on the fly. He somehow managed to keep his guitar well-tuned throughout, but that distraction might explain the occasional articulation problems in his playing, which is generally pristine. Saturday, it dropped to the level of extraordinarily clean.
The notes, of course, are just the beginning. Character, presence, coherence and drama are what really count. In his (generally) meditative, understated way, Nicolella brought all of these qualities to Roberto Sierra's "Toccata y Lamento," two character pieces by Couperin, Nicolella's own "Variations on a Theme of Beethoven," Sor's "Fantasia Opus 30" and by way of encore, Barrios' "The Bee."
This was a fine recital and given the circumstances, a heroic effort.
---
The Milwaukee Journal
Friday, October 30, 1992
by Paul Gerard
Special to The Journal
"Nicolella takes guitar to new level"
What constitutes the heart and soul of the guitar? Michael Nicolella and Luciano Berio would seem to disagree.
Introducing Berio's "Sequenza XI," the major piece of Nicolella's recital Thursday evening at the Wisconsin Conservatory of Music, Nicolella said that Berio made use of flamenco techniques because that Spanish form was the soul of guitar music.
But the message of Nicolella's concert is that the guitar music can distance itself from the bullfight and its virtuosic violence and move to a realm of such cloudless lyricism that it seems to have no history at all.
Not that "Sequenza XI" could be faulted. As performed by Nicolella, it is a dynamic, exuberant piece that is not afraid to stretch the guitar's sonic ability. Berio's combination of flamenco strumming, jaggedly atonal lines and percussive effects is both elemental and modern. He takes the guitar on its own terms.
But the rest of the program showed how a gifted player can take an instrument beyond those terms.
---
Saturday, November 9, 1991
By Tom Strini
Journal music critic
"Peel away the calm, and Nicolella has fire"
Friday evening, classical guitarist Michael Nicolella, on the occasion of his debut faculty recital at the Wisconsin Conservatory of Music, calmly poured out a few thousand of the most difficult notes in the repertoire. Easy as opening a valve. No spills, no clicks, no buzzes, no muffles. No sweat.
So where was the effort? Where was the passion?
The effort was concealed in untold hours and years of preparation. The passion was in the details.
His articulation was so clear that each note and rhythm, phrase and breath between phrases had its distinct life and edge. He never compromised tempo to enhance articulation, and he didn't fuss over his fine detail. It was more like he allowed the details to fall into place.
That is why his incredible speed in, say Ernesto Cordero's "Descarga" or Bach's "Fugue in g minor" did not draw oohs and ahs from the audience. You didn't hear speed, you heard music at proper rhythm and tempo, music the way it had to be.
That held for everything but Falla's "Homenaje (pour le tombeau de Debussy)," which was thrown away as a warm-up. Every where else, Nicolella bared the kernel of character.
Manuel Ponce's "Sonata No.1" was suave as a maitre d' at a high-class '40's night club. Benjamin Britten's "Nocturnal after john Dowland" and Dowland's "Melancholy Galliard" were autumnal resignations to the universal fate. Frank Martin's "Quatres Pieces Breves," which can be an expressionist outburst, was impersonally, objectively intense.
The passion was not in personal expression, but in the acute lucid moment by moment awareness of what the music is.
---
April 2008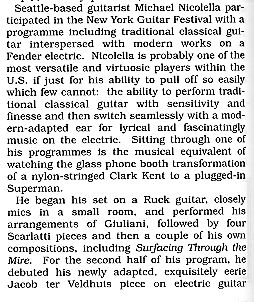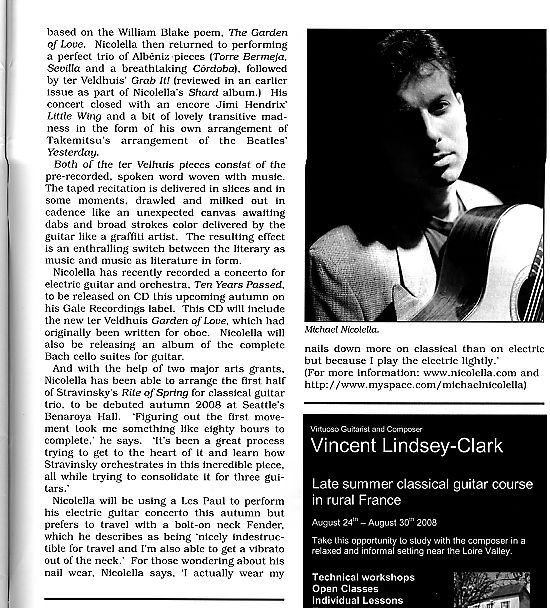 ---
May 2006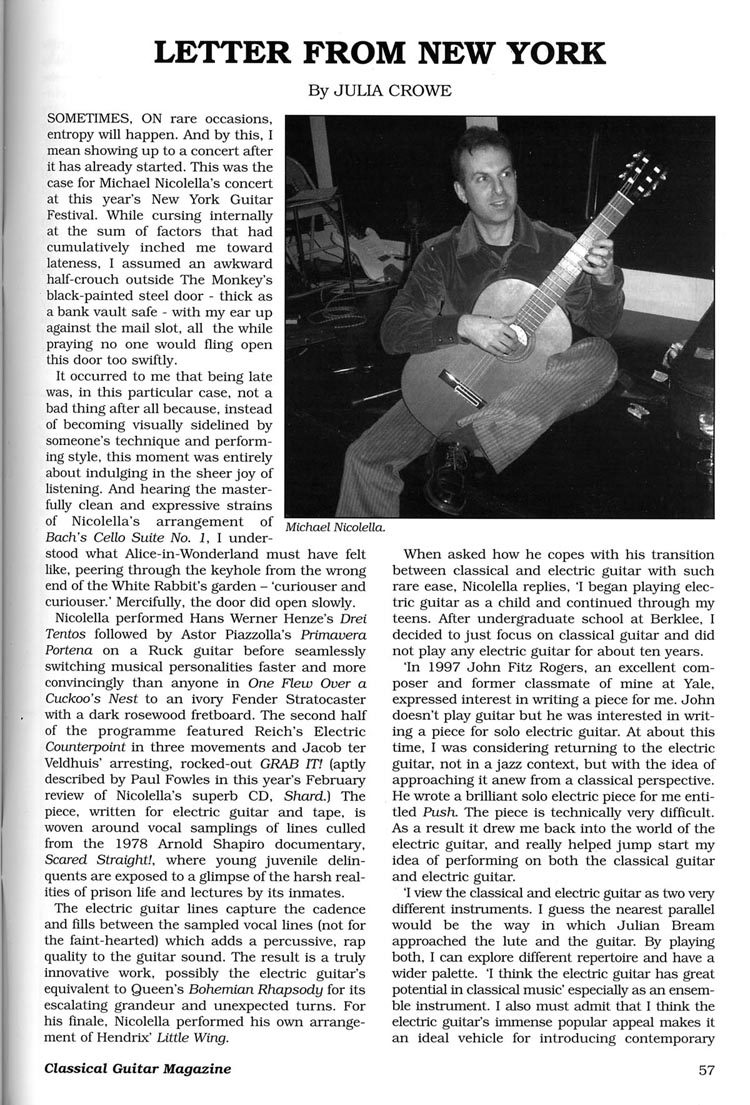 ---
March 17, 2006
Philippa Kiraly
"Acoustic or electric, it's all classical with versatile Nicolella"
Like so many 12-year-olds, Michael Nicolella hankered after an electric guitar. He already was learning acoustic guitar, but the lure of playing in rock bands with his buddies was too strong. He discovered jazz, then went to Berklee College of Music in Boston, where he intended to make jazz guitar his career.
But something happened along the way. At Berklee, he discovered the chamber music of composers like Bartok and Stravinsky."I really fell in love," he says. "We were required to study conducting and traditional harmony, but they were not a main part of the curriculum." They became so for him. He set aside his electric guitar, planning to study only classical guitar.
Fast forward 10 years, after a master's degree at Yale, and Nicolella, now a seasoned classical guitarist, was asked if he'd play electric guitar again."I pulled it out of the closet," he says, "and revisited all that stuff. That was eight years ago."
Now Nicolella is known for playing both instruments, mixing them in performance, and for his own compositions, always from a classical standpoint.
For his performance at Nordstrom Recital Hall Saturday night, he'll stick to acoustic guitar at the request of Seattle Classic Guitar Society, which is presenting him. He's playing an eclectic program of music, new and old, familiar and not. Nordstrom Recital Hall "is beautiful for guitar," he says. The soft tones are clear, and every note is audible.
Nicolella will play his own music as well as Bach, Albeniz, Rodrigo, Piazzolla and Henze at 7:30 p.m. Saturday at Nordstrom Recital Hall. Tickets are $22-$28 at 206-297-8788.
back to top
---
Spring 2005
Issue #130
this issue of Guitar Review included a CD, half of which was devoted to some of Michael's compositions for solo guitar
by Stephen Griesgraber
You've announced on your website that you plan to release a new recording this year as a stylistic follow-up to 2000's Push. Have you chosen your repertoire yet? Is there an overall concept? Will you again be including works for electric guitar alongside classical guitar pieces?
Yes, the CD is finished and will be released in April. Like the Push CD it is an eclectic mix of contemporary classical music for guitar (including two pieces for electric guitar and tape). I programmed the CD so that every other piece is for solo classical guitar. There are several pieces of mine including a concerto for classical guitar and orchestra (performed with the Northwest Symphony Orchestra). There are some excellent works written for me by other composers and a couple of modern gems of the repertoire: the title track- Elliot Carter's Shard and Steve Reich's Electric Counterpoint. I actually made my own tape part for Electric Counterpoint a few years back and have played it in concert dozens of times. So, it was nice to revisit it and record it anew. I "orchestrated" it for a wide variety of guitars - electric solid bodies, arch tops, classical, steel string acoustics, and electric bass.
Many classical guitarists have taken up (or returned to) electric guitar as their primary instrument, particularly those interested in the contemporary musical words of minimalism, post-minimalism, and related genres. You seem to inhabit this world while devoting equal time and interest to traditional classical and contemporary classical guitar repertoire. How have you approached the exploration and development of these varied interests within a single concert and recording career?
I certainly view the two as separate in terms of approach, technique and repertoire. But I also feel that the two are complimentary in that each has its own unique attributes and strengths. With both the electric and classical, I feel that I have a wider palette - more options. Although I still think of myself first and foremost as a classical guitarist. There are just some goals that I can best accomplish on the electric. I guess the best analogy would be the way that Julian Bream approached the lute and the guitar simultaneously.
Many composer/performers do not maintain the large repertoire that you do, has your impulse to compose always been parallel and in equal measure to the interest in the standard literature?
On the new recording there will be the fore mentioned concerto as well as two solo pieces of mine. I have always composed and the interest has been equal to my performing; though I must admit that the time devoted to each pursuit is definitely lopsided in favor of performance. There are times where I may go several months without composing (especially when my concert demands are greater) but I'm ALWAYS practicing. In addition I tend to compose very slowly. Even in periods when I may not actually be writing, I am still thinking about composition projects. Right now I am beginning work on a new concerto for electric guitar and orchestra which was commissioned by 4Culture.
I really view myself as a composer/performer. Not just in the sense that most of the works I write include guitar and that I often perform them myself, but also in that my skill as a composer definitely informs my performing and interpretive activities and vice versa. Also, I think that there are certain concerns I have when writing for guitar that a non-guitarist composer would not have (and that I certainly do not have when writing for other instruments). However, as a performer, my own music makes up only a small part of my repertoire. There are other composers whose music I perform more frequently than my own - Bach for instance.
Have you studied composition formally? How do you approach your composing?
While both my undergraduate and graduate degrees were in guitar performance, I also studied composition as well. Jonathon Berger, Martin Bresnick and Tom McGah were three composition teachers who were very helpful. Although I only studied a semester with each of them. I think, for the most part, many composers are, to a great extent, self-taught and I am probably more so than most. For example, I would say that, by far, the foundation of my skill as a guitar composer was formed by the years spent discovering and interpreting the classical guitar repertoire. And I never studied orchestration formally, so before I wrote my first concerto I just spent hours and hours poring over scores and recordings. I think that was the best instruction I could have had - analyzing how say Stravinsky or Takemitsu or Debussy achieved their results.
I think my approach to composing probably differs from many guitar-composers. I usually do not write with a guitar and very few of my initial ideas come from improvising on the guitar. Most often I come up with and develop my ideas away from the instrument and will just use the guitar to occasionally check specifics. Consequently, when I then learn to play one of my own pieces, the process is really no different than learning a piece of standard repertoire that I am only familiar with aurally. And, I find that, as in the case of learning a new work written for me by another non-guitarist composer, there are then usually some changes which need to be made to make the piece more playable and/or effective.
back to top
---
(Columbia, SC)
Between Britney and Bach
Southern Exposure series showcases a wider world of music
Friday, Nov. 14, 2003
By T.D. MOBLEY-MARTINEZ
Staff Writer
Bach. Beethoven. Haydn. Mozart. Handel. You probably know those names, even if you couldn't hum a note of their work. But how about these: Reich, Piazzolla, Andriessen or Brouwer?
Not familiar with these composers? The Southern Exposure New Music Series - which features contemporary classical work - wants to fix that.
"I think when people think about music, the only thing people know - the only thing available to them - is either classical music created by mostly dead composers or pop music," says John Fitz Rogers, an assistant professor of composition at the University of South Carolina and artistic director of the Southern Exposure series. "There's a whole world of music that isn't Britney Spears or Bach, but is meaningful and can touch people.
"That's at the heart of Southern Exposure Series."
Tonight, virtuoso guitarist Michael Nicolella kicks off the series' season with a mixed program - both acoustic and electric guitar, contemporary classical and, well, straight-up classical.
"Remember," Nicolella says, "until the 20th century, almost all the classical music that was performed was contemporary. If you went to a concert, you would in all likelihood be hearing pieces which had just recently been composed, many times performed or conducted by the composer himself."
That doesn't happen much now, though. Today, most philharmonics can't risk ticket sales by programming composers without built-in name recognition. That's why you'll see warhorses of the repertoire like Beethoven's Fifth heavily seasoning most orchestra programs.
"With the voluminous proliferation of fine recordings," Nicolella says, "it gets harder to justify going out to hear the local symphony play Beethoven's Fifth when you could stay home and listen to your favorite Karajan recording.
"I think that, especially as the older generation of concertgoers die off, orchestras and concert series will be forced to look towards more creative programming, which would naturally include contemporary music," he says. "The baby boomers grew up with rock music and would, in all likelihood, relate to - and enjoy - a work by, say, Steve Reich or Louis Andriessen more than the 1812 Overture."
Exactly, says Fitz Rogers, who, with the then-new dean of the school of music, Jamal Rossi, and others from the music department, cofounded the series in 2001. From the beginning, the series has been a stage for students, faculty and guest artists like Nicolella.
Early on, the free concerts could hardly fill half of the roughly 200-seat recital hall. "Now we regularly fill the concert hall. On more than one occasion we've had to use a second room with a video feed."
If they can get you in the audience, Fitz Rogers says, they can hook you.
It's a rich repertoire, sure. But it's also one steeped in influences that anyone with a car radio and a daily commute can relate to.
Jazz. Rock. Gospel. Folk. Music of our time, says Fitz Rogers, who also is a noted composer.
No one, it seems, works in a vacuum. Even the long-dead composers that headline the programs of the average orchestra concert borrowed liberally from popular music of the day.
"With the complete pervasiveness of popular music in today's culture, I find it hard to believe that a composer would not be affected and influenced by some form of popular music," Nicolella says. "In my completely unbiased view, I think that the two works John Fitz Rogers wrote for me -'Push' and 'Transit' - are good examples of complex classical works which completely and unapologetically borrow from the rock vernacular."
Nicolella will perform "Push" tonight.
"My feeling," Fitz Rogers says, "is if classical music doesn't continue to grow and embrace contemporary writing and music that is not mainstream, it will die. It will become a museum. I don't want it to because I write music and I want it to be '.'.'. a living tradition."
---
August 30, 2001
By Gavin Borchert
"Classical Between the Cracks"

A local six-stringer thrives between the genres
(This article appeared as a preview to Nicolella's concert at the Bumbershoot Festival in Seattle)
Bumbershoot's always had an erratic relationship with classical music. But it does have one strength: Bumbershoot provides a home for musicians who prefer working in the gray areas between genres - explorers for whom a cut and dried label like "classical" would be too limiting. Seattle guitarist Michael Nicolella grew up with rock and never left it behind even as he excelled in classical guitar studies at the Berklee School of Music and at Yale. His hour-long recital will be half acoustic, half electric, with a couple of centuries of repertoire represented, from a little 19th-century dessert piece by Fernando Sor to a new work of his own, "Surfacing Through the Mire."
Some of the works on his program will draw from both worlds, like the tango explorations of Astor Piazzolla; some will resemble a funky toccata like "Open Up Your Ears" by Portland's Bryan Johanson. Steve Reich's "Electric Counterpoint" for multiple guitars (Nicolella plays one part live against his own prerecorded performances of the other parts) is a landmark of the concert -music-for-electric-guitar repertory, just as Jimi Hendrix's "Little Wing" epitomizes the rock guitar-god tradition.
Nicolella, like most classical guitarists, is a great friend to contemporary music, always searching for, and asking for, new work. On his desk now, waiting to be learned, is a new piece by the Degenerate Art Ensemble's Joshua Kohl. Another commissioned piece by sonic saboteur Chris DeLaurenti is in progress. For his Bumbershoot recital Nicolella will also play "Eleven" by Tom Baker, a guitarist and skilled colorist with an impeccable ear for the instrument's sonic and expressive possibilities.
Nicolella recently completed a guitar concerto supported by a grant from the King County Arts Commission and is shopping it around to local orchestras. He's also looking ahead to a Benaroya Hall concert next spring; he plans to include, as usual works written by and for him for both electric and acoustic guitar, as well as some of his own transcriptions of Bach cello suites.
back to top
---
Friday, May 5, 1995
By Tom Strini
Journal Sentinel music critic
"Classical guitarist bids adieu"

Michael Nicolella to give final concert before he, wife head to Seattle
At 8 p.m. Saturday, classical guitarist Michael Nicolella will begin his last concert as a Milwaukeean.
Nicolella, 31, came to town four years ago to be guitar instructor for both the Wisconsin Conservatory of Music and Appleton's Lawrence University. He's leaving because his spouse of six years, painter Ann Gale has landed a plum job on the art faculty of the University of Washington, Seattle.
Gale, 29, has had a temporary appointment at the Milwaukee Institute of Art and Design; her current show at the Dean Jensen Gallery has sold out.
"Four years is a long time for us to be anywhere," Nicolella said in an interview at the couple's spacious old townhouse in Walker's Point. "We were starting to get too comfortable here. it's not good for artists to be too comfortable."
"I love teaching," he said, "but I'm just drained. When you spend all that time trying to make other people's playing better, it's hard to come home and spend another five hours working on your own. I felt that I was making progress in my own playing only in the summers."
Taking Chances
I haven't heard Nicolella play in a couple of years. Back then, he was in complete command of some of the most difficult music in the repertoire. His playing was immaculate, lucid, intensely present. It's hard to imagine him getting better, but possible to imagine him changing his style.
"I'd like to think I take more chances now," he said. "I'm more willing to just play the way I feel and not be concerned about dropping a few notes. If you're too careful about things you don't grow."
Nicolella will not seek a teaching job in Seattle. "I'm at a point where I'd like to play 50 or 60 concerts a year, not a dozen," he said. "There's no way you can hone your craft playing a dozen concerts a year."
Amazingly, Nicolella knew almost nothing of classical music until he got to college. He grew up in a non-musical household in suburban Providence, RI, which then had no classical music radio station.
"We had maybe three records in our house," he said "One of them was 'West Side Story.' I liked it a lot."
Catches the Jazz Bug
He started guitar lessons on his own initiative at age 10.
A cousin with a good record collection started giving him albums-Hendrix, Led Zeppelin, Leo Kottke, anything where the guitar was prominent, and all kinds of jazz. Nicolella's interests went in that direction.
"I wanted to be the next Pat Metheny," he said referring to the jazz guitar virtuoso.
He went to college in Boston - not at the New England Conservatory, but at the Berklee College of Music.
Boston, of course, had classical music stations and a rich concert scene. And Berklee puts its students through rigorous cycles of theory and counterpoint based in the European classical tradition.
"I started listening to Beethoven and Bartok and just falling in love with that music," he said. "And I started studying classical guitar."
Decision Time
Nicolella graduated from Berklee at age 20 and faced something of a jazz vs. classical crisis.
"For a while, I spent two hours a day practicing jazz, two hours on classical and two hours composing. Even at Yale I had a jazz quartet."
He's barely had his hollowbody archtop guitar out of the case since coming to Milwaukee. -there's been no time for jazz. He's looking forward to limbering up his jazz muscles in Seattle, partly because he longs to play more with other musicians. Classical guitar is a lonely, soloistic instrument.
Nicolella requires his students to play chamber music and he plays it himself whenever he can. He'd planned to put some on Saturday's program but it didn't work out. He will play "Toccata y Lamento" by Roberto Sierra, former Milwaukee Symphony composer-in-residence; Fernando Sor's "Fantasia" Opus 30; Frank Martin's "Four Short Pieces"; F.Couperin's "La Menetou"; Nicolella's own "Variations on a Theme of Beethoven'; and Bach's "Chaconne," from the Violin Partita BWV 1004.
Nicolella is serious about reviving the nearly lost tradition of the composer/classical guitarist. Last year, he was one of a handful of winners of $5,000 Wisconsin Arts Board grants for musical composition.
That grant notification, by the way, typified the charmed life of this talented and hard-working couple.
back to top
---
Friday, February 17, 1995
Classical wrapup
by Channing Gray
"R.I. native highlights a big guitar weekend"
You can sample the guitar artistry of Rhode Island native Michael Nicolella this weekend or drop in on an afternoon of popular hits from 18th century France at Providence's Lippit House Museum.
Actually, this is a big weekend for guitar music. Nicolella, now based in Wisconsin, will be appearing at the Music School tomorrow night in a program that contains one of his compositions along with his own transcription of the great violin "Chacconne" of Bach.
Nicolella will be making his more or less annual swing through Providence tomorrow. the guitarist grew up in Cranston and studied jazz at Boston's Berklee school of Music. But he always loved the classical end of the repertoire and gradually shifted over to classical guitar, trying to make a go of it in a crowded market.
On the phone the other day, Nicolella acknowledged that the competition is stiff. But he has put out a CD and is hoping to have another disk of 20th century music out soon.
Contemporary guitar music may not sound like a big seller, but Nicolella, who teaches at a couple of schools in Wisconsin, feels that a lot of important music is being written these days - by major composers, he adds - and that it's vital that someone champions the cause.
Tomorrow night he'll be opening his recital with a "short but aggressive" toccata by Roberto Sierra, written in 1987 as a sort of homage to Villa-Lobos.
Then he'll perform his own set of variations, based on the last movement of the opus 109 piano sonata of Beethoven, which is itself a masterful set of variations.
Nicolella's piece is interesting in that each variation moves farther and farther away from the Beethoven in terms of its compositional style - working its way from a section inspired by a Brahms intermezzo to one that takes its cue from the atonalism of Alban Berg.
"It's sort of a work in progress'" said Nicolella. "I've been writing and scrapping variations for it. In fact, since the program was announced, I've written two new ones."
Rounding out the evening are scores by Francois Couperin, Frank Martin and the prolific guitar composer Fernando Sor.
Nicolella's interest in contemporary music hasn't exactly made him a favorite with presenters, people who usually don't like to gamble on programs that stray too far from the mainstream. His recent plans to include a large Luciano Berio piece on a Chicago concert was shot down by the manager.
But Nicolella said he has had good luck with the difficult score among audiences, especially listeners who don't have preconceptions abut modern music. The Berio was a big hit when he played it not long ago at a small-town Catholic college.
"I just enjoy playing music that I like" he said. "Hopefully that comes through to the audience and they enjoy it too."
---